Of the many North Coast campgrounds that are right next to Highway 101, Benbow might be the worst because the highway is on an embankment above the campsites. That means the traffic noise is rather loud everywhere in the campground, and doesn't really fall off as you get further from the freeway. Benbow also gets rather hot and dry in the summer.
On the other hand, except for holiday weekends it's pretty easy to get a campsite here, and the campground is otherwise very nice.
The highway divides the campground into two halves, each with its own distinct look.
Lower and middle loops

---
The two loops east of the highway are in a sunny, open oak grove. Of these two loops, the middle loop gets more shade and is more popular. Sites 39, 40, and 41 are on the Eel River, but you can't actually see the river because of all the shrubs.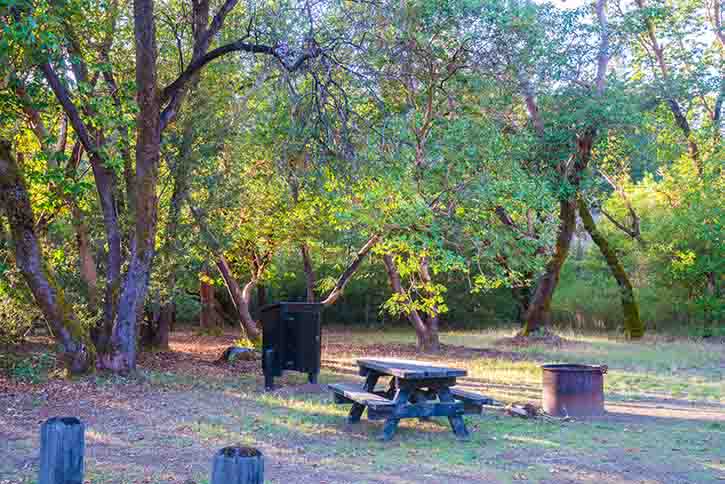 Upper loop

---
The upper loop sites can't be reserved online and are only available in-person at the entrance kiosk.
This loop is in dense, shady woodland that's more scenic than the other loops, but it gets more traffic noise because the highway is banked toward it. The best part is the loop at the end of the road, especially sites 69, 70, and 72, which have some good-sized redwood trees.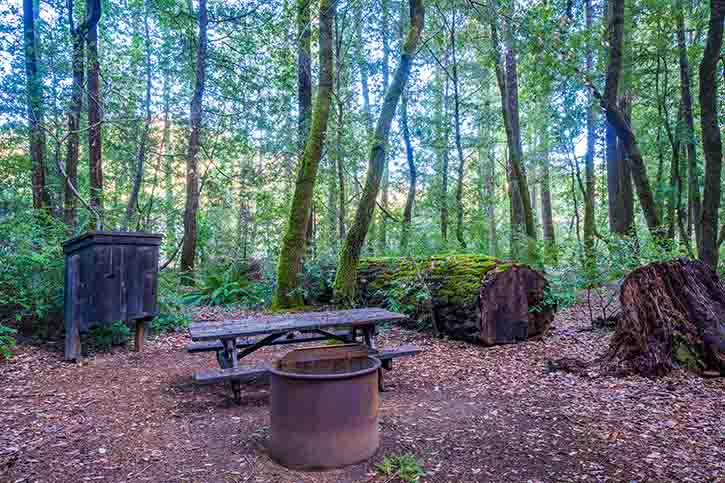 Details

---
Like most state park campgrounds, Benbow is mainly designed for tent camping. It does accept RVs up to 30 feet long, but there aren't any hookups. If you have an RV or a trailer, take the Benbow Drive exit south of the campground, then drive north on Benbow Drive for 3 miles to reach the campground. Don't take the Benbow exit, because a landslide on Benbow Drive has left an unpaved stretch where you have to drive up and over a somewhat steep, gravelly little hill (visible on Google Street View).
Links

---
Here's the campground entrance in Google Maps.
Make reservations through Reserve California; search for Benbow. Reservations are available up to 6 months in advance.