★
The Dool Trail
A loop hike through a heavily-burned upland redwood forest
---
Length 2.7 miles • Climbing 500 feet
The Dool Trail re-opened in July 2022 and, along with the Redwood Loop Nature Trail, was one of the first two singletrack trails to open after the CZU Lightning Fire. It's currently one of the most popular hikes in Big Basin; even with the reservation system limiting the number of visitors, there's still about a group every 1–2 minutes on a nice summer weekend.
The loop climbs into redwood uplands that were much more heavily affected by the fire than the lowlands near the parking lot. There's no real scenic payoff at the top of the climb, so you can turn around at any time and not miss much. However, a lot of people head for Ocean View Summit, a low open knoll with a bit of a view over the Waddell Creek Valley.
The trail starts at the end of the little parking lot spur a few yards north of the temporary visitor center. It crosses a new bridge and runs through a dense stand of blackened lowland redwoods along Opal Creek. It's hard to imagine that this area used to be a remarkably lush old-growth forest.
The trail begins to climb a very heavily-burned hillside. This area is in much worse condition than the lowland; the tree canopy is completely gone, leaving the ground is in full sunlight. The hillside is much hotter than it was before the fire, and the ground, which used to be covered with a springy layer of fallen redwood needles, is now dry, hard dirt.
The trail crosses Gazos Creek Road and keeps climbing.
The trail ends at Middle Ridge Fire Road. If you turn right here and walk about 20 minutes you'll reach Ocean View Summit; it's not really that exciting, but it&rsquos the only view in the park headquarters area. Going there and back would add about a mile and a half and 200 feet of climbing to the hike.
Otherwise, turn left onto the fire road, which climbs a few yards to a heavily-burned hilltop. On the right of the road is a completely dead stand of firs; on the left is a stand of redwoods that's still alive.
The road then descends to a saddle, where it reaches an intersection with Gazos Creek Road. The redwoods in the saddle are in pretty good condition; a little patch of the tree canopy survived more or less intact here, although the understory has clearly burned away.
Turn left onto Gazos Creek Road, which descends the heavily-burned hillside.
At the bottom of the hill, turn right onto North Escape Road. The road runs through the Stanford Group, a group of large old-growth redwoods that's in pretty good condition, at least compared to the hillside.
---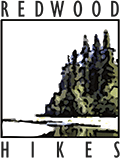 © 2022 David Baselt