★
Eagle Rock
from Little Basin Campground
---
Length 4.5 miles • Climbing 1210 ft
Pre-fire page

---
This page shows what Big Basin was like before the August 2020 lightning fire. It does not describe current conditions. See the main Big Basin page for current park information.
Background

---
The Eagle Rock Trail starts next to the Little Basin Campground and climbs to a rocky peak. It's a little like the nearby Buzzards' Roost hike but not as scenic.
Little Basin distributes a map of this trail that suggests making a loop by returning on a nearby dirt road. The dirt road runs through private property and isn't part of the state park trail system; however, there aren't any "no trespassing" signs. The map dates back to the days when Little Basin was a privately-owned corporate retreat.
Hike description

---
Here's the trailhead location in Google Maps.
The trail begins at an unused dirt road just outside the gateway to Little Basin. There's a little space to park at the edge of the dirt road. The trail immediately begins climbing through tanoak woods; at first it can be a little hard to follow with all the tanoak leaf litter covering the ground.
The trail descends to a creek where there's an old, dilapidated cabin.
The trail continues climbing through tanoak woods, crossing a bridge that's so steeply arched that it can be difficult to cross when it's wet.
Just after the bridge the woods give way to dense scrub. Two unmarked side trails lead to viewpoints that overlook the valley that Big Basin Way runs through.
A dirt road climbs to a summit with a graffitied cement-block shed surrounded by razor wire and an abandoned fire lookout that burned down recently.
Right next to the summit is Eagle Rock, a rock formation similar to Buzzards' Roost. The short climb to the top is rewarded with a pretty nice view of the valley to the east.
Go back on the dirt road, continuing past the trail intersection. The road has some views to the north. Turn right onto the first dirt road; it's unmarked but is the only one that has a gate. The road descends through woods that at first show signs of actively being logged.
The road ends at a yellow gate and an intersection with a dirt road. Straight ahead, an unmarked path leads to Little Basin campground.
More information

---
The above hike is based on this map from the Little Basin website. It may have been cleaned up, but it's essentially the same map that was distributed to campers back when the camp was owned by Hewlett-Packard.
---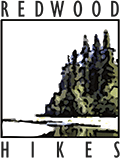 © 2019 David Baselt