★★★
Pre-fire page

---
This page shows what Big Basin was like before the August 2020 lightning fire. It does not describe current conditions. See the main Big Basin page for current park information.
Background

---
Huckleberry is three campgrounds in one, with a tent cabin campground, a regular drive-in tent campground, and a walk-in campground. Unlike the big-tree lowlands around the visitor center, this is more of an upland environment with smaller redwoods, but there's still really attractive old growth throughout the campground.
Compared to Blooms Creek, Huckleberry feels like a sprawling suburb. And like a suburb, you pretty much have to drive everywhere; if you want to make a quick trip to the visitor center and campfire center, it would be about a half-hour (1.5 mile) walk each way. But the sites are much larger and better screened from each other, and the entire campground is well away from the main park access road, so there's no traffic noise other than cars driving around the campground itself. The campground isn't always quiet, though; like every Big Basin campground, on weekends noisy late-night partiers can be a problem.
Huckleberry's roads are much less twisty than the other campgrounds and are easier to navigate for large vehicles. But it has the same RV restrictions as the other campgrounds, that is, RVs up to 27 feet and trailers up to 24 feet are allowed.
Every site has a bear box and a fire pit with a grate for cooking. Due to the nearby creek there can be a lot of mosquitos in the area.
Huckleberry is open all year.
Tent cabins

---
The cabins are plywood with a canvas top. I think they were built in 1968, along with the rest of the campground. Three types of cabins are offered:
Basic cabins are $99/night with a 2-night minimum on weekends. You get two sleeping platforms with a little padding, a wood stove, and a little table. Without any bedding or lighting the basic cabins, though clean, are a little dingy-looking.
The Deluxe camping package is $129/night. The beds are made up and towels and a latern provided, making the cabin look a little nicer, although the structure itself is the same as the basic cabins.
The Total camping package is $160/night. It includes sleeping bags instead of linens, a bundle of wood, a cooler with some ice, and some cookware for the outdoor fire pit but no plates or cups.
The cabins can't be changed from one type to another: cabin 6, for example, is always a deluxe cabin. So if you want a particular site or the campground is almost full, you might not get a choice of package.
Everything can also be purchased separately; firewood is $15 and linens are available for $15. If you have more than one car there's an extra parking fee.
The sites are pretty big, much larger than a typical campground. The cabins are pretty well-distributed along the road so all the sites have a similar amount of privacy. Cabin 30 might be the most private, since it's up on a hillside and is set back a little from the road; it's near the bathroom/shower building but not right next to it. Cabin 23 has the best redwoods; it's in a nice clump of good-sized trees. Cabin 36 also has some nice redwoods.
Unlike the other parts of Huckleberry, the tent cabin area is run by a concessionaire.
Drive-in tent sites

---
The west loop is a regular drive-in tent campground. Like the east loop, the sites are pretty good-sized. Somewhat oddly, the sites aren't evenly distributed around the loop; there are some big breaks.
The best sites are 62 and 63, which are are on a little rise with a few redwoods overlooking a small ravine. Sites 49 and 50 are relatively isolated but don't have a lot of space.
Walk-in sites

---
The 8 walk-in sites are scattered along a 130-yard-long trail leading from a parking area. Four sites are clumped together in the most attractive part of the trail, a partially-logged grove along Sempervirens Creek with some pretty good-sized redwoods.
Despite the lack of privacy the four sites at the end of the trail are the nicest. They're all pretty similar, but site 57 has a slight edge since it's on a hillside slightly separated from the other three sites; you can pitch your tent under a big twin redwood.
---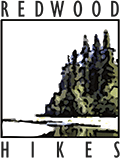 © 2018 David Baselt