★★
Pre-fire page

---
This page shows what Big Basin was like before the August 2020 lightning fire. It does not describe current conditions. See the main Big Basin page for current park information.
Background

---
Although the park calls it a backcountry trail camp, Jay Trail Camp is actually right in the middle of the busiest and most developed part of Big Basin. But it gives backpackers on the Skyline-to-the-Sea Trail a place to stay that's close to the trail and a little more appropriate (and cheaper) than the nearby car campgrounds.
The camp is a refreshing break from the trail. It has its own bathroom with flush toilets that are maintained all year. There are pay showers, which definitely isn't a normal trail camp amenity, and a potable water faucet. Best of all, Jay Camp is close to the park store, which sells camping supplies, sandwiches, ice cream, and the best selection of beer and wine I've ever seen in a California state park. Check the hours before going; the store might only be open weekends in the spring and fall, and is closed entirely in December and January.
The main drawback is that the camp is right next to Big Basin Way so there's some traffic noise, and there may be noise from nearby Blooms Creek Campground, about 100 yards away. There are a lot of people around the visitor center and the Redwood Loop but not around the camp itself.
The campground is in attractive old-growth redwoods. You aren't assigned a particular site, so you can choose whichever one you want. The best one is site 3; it's the most isolated and is under some big old-growth redwoods. Site 1 is also pretty nice, but anyone going to site 2 has to walk through it. Site 6 looks like it might be isolated, but is actually in a little clearing right next to sites 7 and 8.
Jay Camp doesn't have picnic tables or fire rings, and fires aren't allowed, which seems a little odd since fires are allowed at the drive-in campground just across the street.
The camp is open year-round.
Regulations

---
Jay Camp has a lot of regulations to prevent it from becoming an overflow campground for Blooms Creek. You have to hike the whole Skyline-to-the-Sea Trail or a similar through-hike to stay here. Although a parking lot is attached to the campground, it's actually for employeese and people hiking to other camps; if you're staying at Jay Camp you're not allowed to park anywhere near the headquarters area, and you aren't supposed to begin or end a trip with a stay at Jay Camp. You're not even allowed to do a 1-night out-and-back from, say, Waddell Beach; you have to reserve at least one other trail camp either before or after Jay Camp. You also can't stay at Jay Camp for more than one night.
Reservations are required. To reserve a site, you have to fill out an online form up to 60 days before your hike, wait for someone at the state parks to email you, then call within 24 hours and give them a credit card number. Oddly enough there's no way to say which campgrounds you want, so call them first if you're hiking anything other than the classic 3-day Skyline-to-the-Sea Trail itinerary. The cost is $15/night plus a fee of $8 for the entire itinerary, which includes an overnight parking pass for one vehicle.
Links

---
---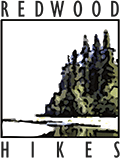 © 2018 David Baselt