★★★★
Pre-fire page

---
This page shows what Big Basin was like before the August 2020 lightning fire. It does not describe current conditions. See the main Big Basin page for current park information.
Background

---
Lane Trail Camp is one of the more secluded camps in Big Basin. It's a very nice backcountry camp that's literally off the beaten path, on a ridgetop just off the little-used Basin Trail. With small trees and little groundcover, the area is very dry-looking by Big Basin's standards, which, of course, is exactly why it's off the beaten path. There are a few small redwoods in the shadier areas, but the camp isn't really in the redwoods; those are mostly at lower elevations. I kind of like the openness of the woods, and the dry environment has fewer bugs and no poison oak.
All the sites are pretty good; there's a lot of separation between them and they're all wooded. Site 5 is the best, since it's on top of a small knoll that gets good late-afternoon light through the trees. Site 4 has the most privacy but is small and the least attractive.
The campground is usually quiet, but it's right on the road to the Cutter Scout Reservation. In the winter the road is little-used, with maybe one or two cars per hour; I haven't been there when the scout camp is in session.
There's no water at the camp and no creeks anywhere near the camp. Fires are not allowed but backpacking stoves are OK. The camp is not maintained from November through April, meaning that you have to bring your own toilet paper and pack out your trash. Even though the camp isn't that busy the maximum stay is 1 night, just like all of Big Bsain's trail camps.
Links

---
---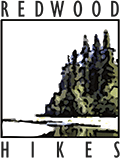 © 2018 David Baselt