★★★
The Redwood Nature Trail
Big Basin's main attraction
---
Length 0.6 miles • Climbing 10 feet
Pre-fire page

---
This page shows what Big Basin was like before the August 2020 lightning fire. It does not describe current conditions. See the main Big Basin page for current park information.
Background

---
The Redwood Loop is Big Basin's main attraction. The wide, level trail winds around an alluvial floodplain where two creeks join and the biggest trees in the park grow. Like most southern redwood forests, the woods are dominated by a dense understory of huckleberry and tanoak that screens views of the trees. Above the shrubs, however, the forest has an expansiveness that hints at the cathedral-like look of the northern redwood flats.
There's little groundcover, suggesting that the soil at the surface is dry and the trees get their water from deeper layers kept moist by the creek. Wild pigs sometimes tear up the ground, turning over large patches of dirt.
Hike Description

---
Here's the trailhead location in Google Maps and Google Street View.
The trailhead is marked with a 12-foot-tall redwood post in the parking lot across from park headquarters. Take the trail into the forest and then take the second left.
The trail runs alongside milky Opal Creek. It passes the Animal Tree, a large tree with a dramatic burlwood growth at its base; the Chimney Tree, a tree that's hollow from top to bottom and that you can stand inside; and the Mother and Father of the Forest trees, which are the largest trees in the park. Near the end of the loop is an open meadow that's full of ladybugs in the spring. In the early days of Big Basin, this area was a resort and there was a concrete swimming pool in the meadow. Across the meadow is a picturesque group of tall trees visible from top to bottom.
---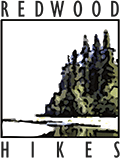 © 2005, 2013, 2014, 2017 David Baselt