★★★★
Pre-fire page

---
This page shows what Big Basin was like before the August 2020 lightning fire. It does not describe current conditions. See the main Big Basin page for current park information.
Background

---
These trail camps are in the Waddell Beach area of Big Basin, about two miles from the end of the Skyline-to-the-Sea Trail.
Twin Redwoods is an attractive camp under a leafy grove of trees next to Waddell Creek. The best site is number 4; it overlooks the creek and is separated from the others by a few yards. Just across the Skyline-to-the-Sea Trail is a privately owned picnic area where the owners sometimes have get-togethers.
Alder Trail Camp is not nearly as nice as Twin Redwoods; it's really four campsites clustered around a cul-de-sac with no privacy, plus two more on an access trail. However, sites 1 – 5 are open to the sky, so if you want to see the stars at night this camp might be for you.
Somewhat confusingly, Twin Redwoods doesn't actually have a lot of redwoods, while Alder Camp is next to the last notable grove of redwoods on the Skyline-to-the-Sea Trail.
Besides Alder and Twin Redwoods, there's a horse camp next to the ranger station and overnight parking lot; it's just a big open patch of dirt surrounded by fences.
No fires are allowed. Each camp has a pit toilet (Alder's is a nice new one) and most sites, except site 2 at Twin Redwoods, have bear boxes, but there's no potable water or any other facilities.
---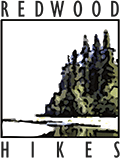 © 2018 David Baselt