★★★★
Pre-fire page

---
This page shows what Big Basin was like before the August 2020 lightning fire. It does not describe current conditions. See the main Big Basin page for current park information.
Background

---
Wastahi is a walk-in campground, meaning that you can't park right next to your campsite; you have to walk a few yards. The closest sites (77) are maybe a 10-yard walk from your parking spot; the furthest are 200 yards and a 100 feet vertical climb. Not surprisingly, the best sites are also the furthest.
The payoff for lugging all your stuff up the equivalent of 10 flights of stairs is that the campground is a lot quieter and nicer-looking than the other campgrounds around the visitor center; you get some of the feel of backcountry camping without actually needing a backpack. Wastahi also seems to attract a less noisy crowd than the drive-in campgrounds, although some noise does drift over from the nearby Huckleberry Campground.
The entire campground is in the redwoods. The area around the parking lot has been logged, but as you get further from the parking lot, the logged redwoods gradually give way to upland old growth.
The parking lot is too small to accommodate RVs.
The campground is only open in the summer, from the week before Memorial Day through Labor Day weekend. Like all Bay Area park campgrounds it's completely full on summer weekends, so you need to make reservations a few months ahead of time.
Best sites

---
First choice: Sites 100, 101, or 102. The northernmost access trail has is the most attractive since it's in pristine old-growth redwood forest. Site 102 in particular is the furthest site from the parking lot and a bit of a climb, but it's nicely isolated and surrounded by a cluster of old-growth redwoods. However, sites 101 and 102 are almost as nice and slightly less of a climb.
Second choice: Site 86. Like 102, it's in an old-growth grove and is at the end of an access trail. The main difference is that it's in a gully so it's a little darker, but it's still pretty nice. This is the most private of the campsites.
Third choice: Site 97 is at the end of an access trail. The woods have been logged so they aren't as attractive, and there are more campsites nearby.
More information

---
---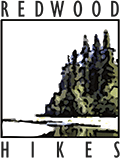 © 2018 David Baselt