With some of the best scenery in California, Big Sur is an incredibly rewarding place to hike. Rugged flower-strewn mountains provide magnificent vistas over a rocky coast and a strikingly turquoise ocean. Surprisingly lush and scenic redwood forests shelter in steep canyons beside fast-flowing and crystal-clear creeks. Unspoiled beaches are tucked away into little coves.
Big Sur is also the most difficult part of the redwood coast to hike. The steep mountains make practically every hike a challenging climb, and every trail gets overgrown with poison oak, to the point where some trails are surrounded by 6-foot-tall walls of the plant. The chaparral is crawling with ticks in the spring, and you can easily pick up a hundred ticks on a single day hike ("garrapata" is Spanish for "tick"). Clouds of flies may surround and bite you, undeterred by insect repellent. Rattlesnakes, black bears, and mountain lions also live in the area.
All but one of the trails featured here are in the relatively easy-to-hike Big Sur state parks. The extensive network of wilderness hiking routes is often poorly maintained and is much more challenging.
Since 2008 this area has been heavily affected by fires and landslides, and many of its trails are still closed.
Parks

---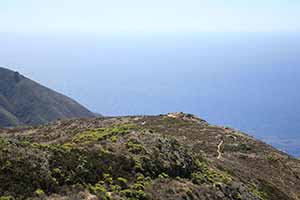 ★★
Garrapata
State Park
Features a dramatically rocky shoreline and steep, chaparral-covered hills with a small strip of redwoods in a narrow canyon. There are no facilities and it's easy to drive right through the park (on Highway One) without even realizing that it's there.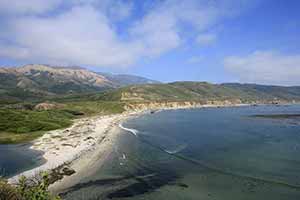 ★
Andrew Molera
State Park
A former ranch at the northern end of the Big Sur Valley with flat, grassy meadows, low coastal bluffs covered with chaparral, and two ridges that provide great views over the otherwise flat landscape.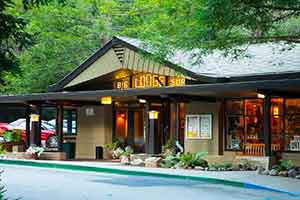 ★★★
Pfeiffer Big Sur
State Park
An exceptional park in the Big Sur Valley with some very nice old-growth redwood forest and a cool, crystal-clear river. Extensively developed with attractive campgrounds, lodging, and picnic sites. Doesn't have a lot of trails, but it's still a real gem.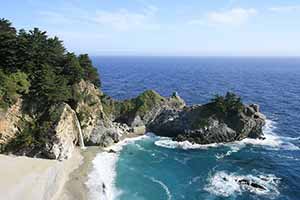 ★★★
Julia Pfeiffer Burns
State Park
A small and largely undeveloped park in the rugged coastal hills that offers two 5-mile hikes and the famous McWay Falls. The Ewoldsen Trail is the quintessential Big Sur hike.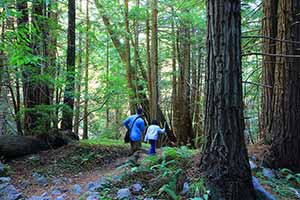 ★★
Limekiln
State Park
A tiny park with a remarkably lush second-growth redwood canyon that contrasts strikingly with the arid coast.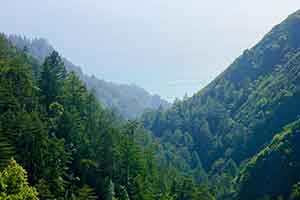 ★★★
Los Padres
National Forest
Los Padres' Ventana Wilderness and Silver Peak Wilderness contains an extensive network of very challenging but very rewarding trails. Many of the trails are poorly maintained and are not suitable for casual hikers.