★★
The Pfeiffer Falls Trail
Loop hike with the Valley View Trail
---
Length 2.5 mi · Climbing 660 ft
The Pfeiffer Falls Trail starts at the park lodge and climbs through a scenic redwood-filled gorge to reach a small waterfall. Return on the Valley View Trail, which descends an oak-covered hillside with a side trip to a great view of the Big Sur Valley.
The trail is by far the most popular hike in Pfeiffer Big Sur and gets very busy; expect to see 2–4 groups of people per minute on a nice weekend.
The gorge section of the Pfeiffer Falls Trail was closed after two major forest fires in 2008. In 2021 a new, rerouted trail was finally opened. While the old trail ran along the bottom of the narrow canyon, the new, much nicer trail is cut into the hillside well above the canyon bottom. The views of the redwood-filled canyon make the trail much more scenic than it used to be. The new trail is also much more lavishly built, with stout fences and steps made from large redwood timbers, and a dramatic footbridge crossing the gorge.
From the first parking area after the entrance kiosk, take the River Path to the lodge. The well-marked trail to Pfeiffer Falls starts across the main access road and quickly begins climbing. After crossing a service road, the trail enters a scenic and open redwood grove on the banks of a small creek. There's a patchy light green carpet of sorrel and a few ferns under the dark redwoods. There are no obvious signs of the 2008 fires.
The trail climbs several flights of steps, running along the edge of the narrow strip of redwoods that grows in the canyon. The trail crosses the gorge on a high footbridge and then switchbacks up a steep hillside. As the trail climbs, the redwoods get smaller; eventually the sound of the waterfall can be heard in the distance.
The trail levels out and contours along the hillside to the waterfall, a thin stream that cascades down a rock face. Continue on the Valley View Trail, which descends by a flight of steps into a dense clump of small redwoods, then climbs an oak-wooded hillide.
The Valley View spur is less-used and narrower than the main trail, and can get overgrown with poison oak. The trail follows a ridge with views of the imposingly high, scrub-covered mountains and occasional glimpses across the valley. Eventually the trail emerges at a viewpoint over the Big Sur Valley, looking toward the ocean. The grand sweep of the valley, fading into the pale blue distance, makes a spectacular view.
Return to the main trail, which descends back to the Pfeiffer Falls Trail. As the trail reaches the bottom of the ravine, the vegetation abruptly changes from oak woodland to a lush, deeply-shaded redwood grove; the contrast is striking.
---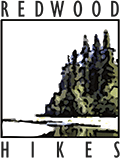 © 2006, 2013, 2021 David Baselt