The Pfeiffer Falls Trail
Loop hike with the Valley View Trail
---
Length 2.5 mi · Climbing 660 ft
Trail closure

---
The original canyon-bottom Pfeiffer Falls Trail has been closed since the 2008 Basin Complex Fire, while the remaining trails have been closed since the 2016 Soberanes fire and heavy 2017 rains. A new canyon-bottom trail is being constructed and was scheduled to open in 2019, but the reopening date is now unknown.
Background

---
The Pfeiffer Falls trail, by far the most popular hike in Pfeiffer Big Sur, starts near the lodge and climbs an oak-wooded hillside to reach a decent-sized waterfall. On the return trip, take a side trail to get a great view of the Big Sur Valley.
The route to Pfeiffer Falls used climb through a redwood-filled gorge alongside Pfeiffer-Redwood Creek. Unfortunately this section, which was the best part of the hike, was closed after two major forest fires in 2008 and never reopened. A hillier, less scenic route with just a few patches of redwoods is now the only way to Pfeiffer Falls. Nontheless, the trail remains popular, and some of the best redwoods can still be seen near the beginning of the trail.
Hike description

---
Here's the trailhead location in Google Maps and Google Street View.
Start at the free parking lot next to the Big Sur Lodge. The well-marked trail to Pfeiffer Falls starts across the main access road and climbs through redwoods and past the little Ernst Ewoldsen Nature Center. After crossing a service road, the trail enters a scenic and open redwood grove on the banks of a small creek. There's a patchy light green carpet of sorrel and a few ferns under the dark redwoods.
The trail, which is wide and dusty due to heavy use, crosses a bridge and climbs out of the canyon, leaving the redwoods behind. The oak woods in this area were heavily damaged by the 2008 fire, but have now completely recovered. After a long climb the trail passes the Valley View spur and then starts to descend back into the gorge, stopping just as it enters the redwoods. A flight of steps leads up to the waterfall viewing platform.
The Valley View spur is less-used and narrower than the main trail, and can get overgrown with poison oak. The trail follows a ridge with occasional glimpses across the valley. Eventually the trail emerges at a viewpoint over the Big Sur Valley, looking toward the ocean. The grand sweep of the valley, fading into the pale blue distance, makes a spectacular view.
Return to the Big Sur Lodge the way you came.
---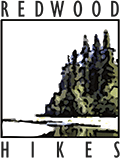 © 2006, 2013 David Baselt