Wonderfully secluded in its shady canyon, Ben Ries Campground is set in an attractive grove of mostly old-growth redwoods.
The campground is on a little ridge within the deep, redwood-filled canyon, giving it more light than the canyon bottom. The bottom of the canyon, where the biggest redwoods were, has been heavily logged, but the campground area with its smaller upland redwoods is mostly old growth. It's not quite pristine since there are a few stumps around, and there aren't any monster redwoods, but it's quite an attractive area.
Being in a canyon makes this one of the most secluded of all drive-in redwood campgrounds; there aren't any at all roads nearby except for the campground road. However, the campsites are densely packed, especially inside the loop road, with little screening between campsites. The campground is quite popular and is usually booked up on weekends and sometimes even on weekdays.
The upland location of the campground means there are fewer mosquitos here than a lot of other redwood campgrounds.
Ben Ries is a great alternative to Big Basin, with more of a secluded, woodsy feel. Butano's trails aren't as nice but also aren't not nearly as crowded as Big Basin's. Unlike Big Basin, there aren't any showers or camp store. The campground seems quieter and more family-oriented than Big Basin, but like any campground it's still possible to get large groups that party late into the night or little kids who get up at the crack of dawn and run around screaming.
As a bonus the campground is near an especially scenic stretch of coast, just a few minutes' drive from Ano Nuevo State Park and (in fall and winter) its elephant seals, Pescadero State Beach, the Pigeon Point lighthouse, the little town of Pescadero, and various farm stands selling excellent locally-grown berries.
If you like this campground you might also like Portola Redwoods, which is similar but has showers.
The campground is closed from December through March. The nightly fee includes parking for one car; additional cars cost extra.
The most popular part of the campground is the drive-in tent site area. The best drive-in sites are 14 and 16, which are more secluded than the other sites; 13 is also pretty nice as the neighboring hike/bike campground is usually not occupied.
Walk-in sites

---
There's a separate walk-in area in a shallow depression below the ridge. You park on the lower loop road and lug your stuff 50 – 150 yards to your campsite; the camp host has a cart for this purpose. This area has smaller redwoods and more stumps, but it's still pretty nice, and without the cars and the campfires it feels less congested. However, it's very open, so the sites generally have less privacy, and you get noise drifting over from the drive-in campground.
The walk-in sites only have a single, sometimes-smelly pit toilet, while the drive-in sites have a proper restroom building with flush toilets. For some reason the walk-in sites don't have fire pits, while the drive-in sites do.
The best walk-in sites are 22 and 23 if you don't mind a smaller site, or 25 if you want a bigger site; all are up on a small hill somewhat separated from the other sites and conveniently close to the main campground's flush toilets.
More information

---
---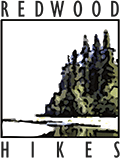 © 2018 David Baselt