Camp closed

---
The Butano Trail Camp and the backcountry trails that lead to it have been closed since the 2020 CZU fire.
Background

---
Butano's trail camp is the most remote of the many backcountry trail camps in the Santa Cruz Mountains. It's a 5-mile hike from the park entrance with sweeping views of gorgeous redwood-carpeted hills and no sign of development anywhere. There's no traffic noise at all, and although the camp is gradually becoming more popular, there still aren't a lot of people around.
The campground is in a little ridgetop patch of small upland old growth redwoods. Site 1 is on top of the ridge, where the woods are rather dry and scraggly looking. As you go downhill from there, the sites get more sheltered and more attractive. Site 8 is the most secluded of the sites, although the campground isn't usually that busy, but it has some stumps. Overall I think the middle sites, 4 and 5, are the nicest.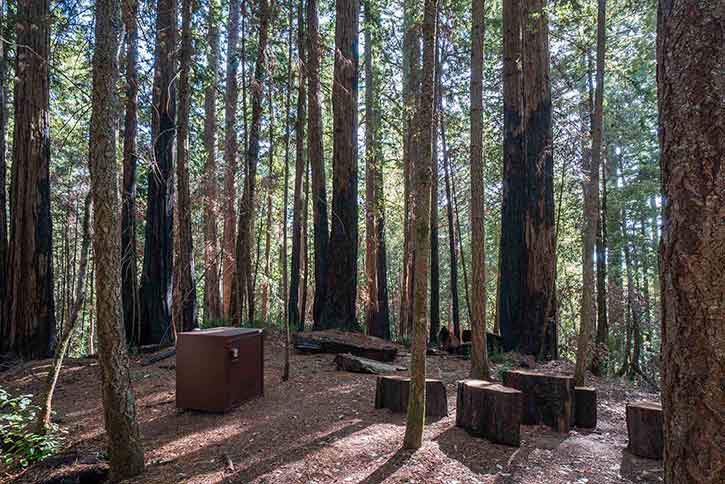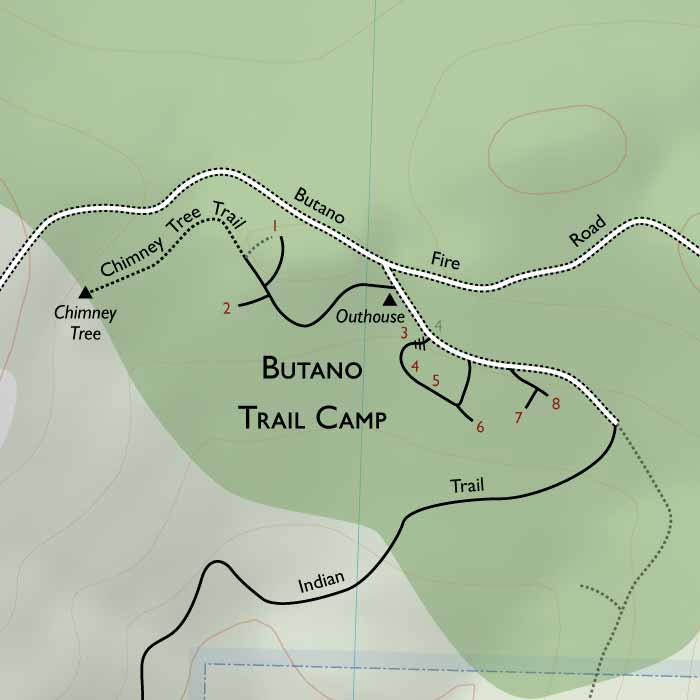 A little-used, almost invisible trail goes from site 1 to the Chimney Tree, a moderately-sized hollow tree with the top broken off. There's also an odd little trail loop not far from the campground. Even thorugh it's in old-growth redwoods it's kind of underwhelming.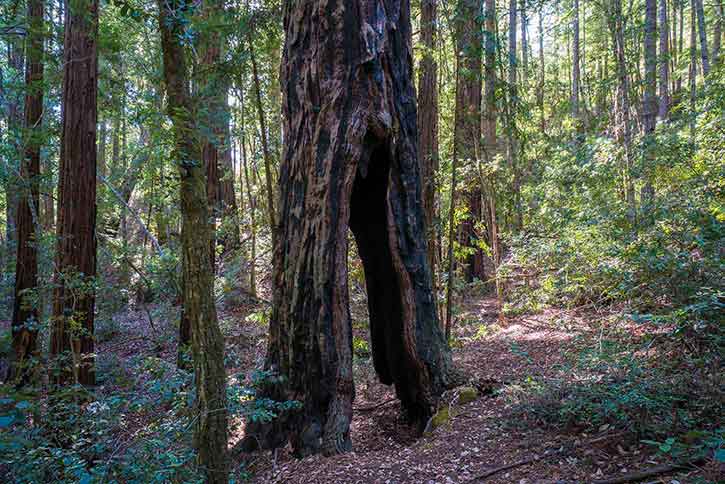 Details

---
Sites are $15/night plus $8 per trip and can be reserved up to 60 days before your stay. To reserve, you have to fill out an online form, wait for them to e-mail you, then call them and provide your credit card number.
The campground has a 3 night maximum stay. It's open year-round, but is not maintained between November through April, meaning you have to bring your own toilet paper and remove all trash. There's no water.
It's possible to reach the camp from China Grade (near Lane Trail Camp) by taking Butano Fire Road. The 3-mile hike is easier but not as scenic than the normal route from the park entrance. Years ago this route was shown as an official trail on the maps sold at the Big Basin visitor center. Now it's labeled "no public access" on the maps, but there aren't any no trespassing signs or gates.
Links

---
See the Backcountry Trail camps page for a helpful calendar showing when sites are available and for instructions on how to make reservations.