Only three hours from the Bay Area, between Sierra ski resorts and the California gold country, Calaveras Big Trees is understandably a popular park.
The park has two groves, of which the most popular by far is the North Grove, just inside the park entrance. The larger and more remote South Grove requires a fairly long drive into the park. Both groves are at a relatively low elevation and have a low concentration of sequoias among a dense dogwood understory. But the groves are of decent size and have some impressive trees.
Outside the sequoia groves, the park's other trails — the Lava Bluffs Trail, the North Grove Overlook Trail, and the many dirt roads — are pretty dull.
The park has two campgrounds. The main campground is built around an alpine meadow just outside the North Grove. Since it's right off Highway 4 it gets some traffic noise. The Oak Hollow campground is perhaps less scenic but is wonderfully peaceful and woodsy. There are also some walk-in primitive campsites on the ridge between the two campgrounds.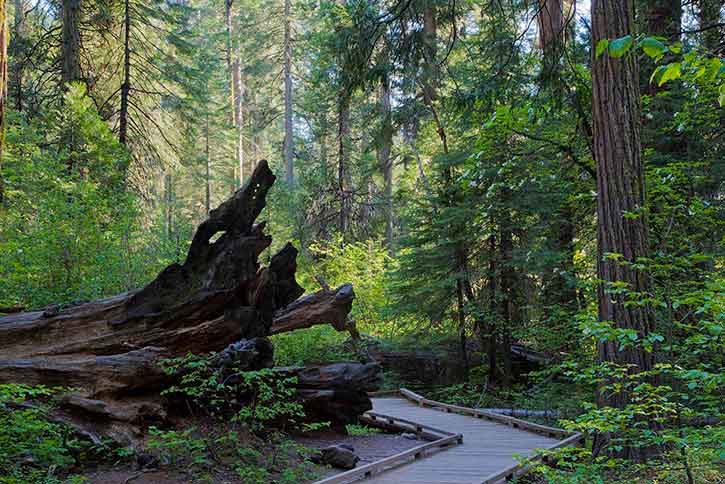 Getting to the park

---
The drive up to Calaveras Big Trees is exceptionally easy; the road is mostly straight all the way up, except for some twists and turns in the foothills. It's worth a short detour to drive through the town of Angels Camp. A few minutes further up, the road passes the very attractive (but also touristy and overcrowded) gold rush town of Murphys.
Just past Murphys, the oak-dotted foothills gives way to pine forest, and the road, climbing a surprisingly gentle incline, passes through the mountain resort town of Arnold before reaching Calaveras Big Trees.
Sequoia hikes

---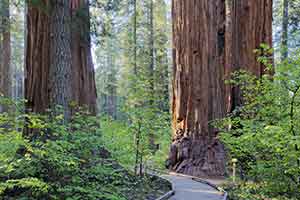 ★★
North Calaveras Grove
Length 1.6 miles · Climbing 70 feet
This popular nature walk just off Route 4 is the park's main attraction. It passes a series of large sequoias, mostly near the beginning of the loop, growing among a dense understory. Open all year.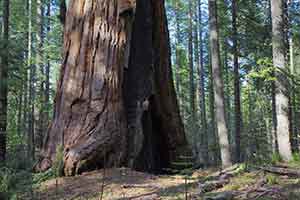 ★★
South Calaveras Grove
Length 5.4 miles · Climbing 610 feet
A quiet grove that's much more remote than the North Grove and also requires more hiking. The sequoias are widely-scattered among a dense understory. Not quite as impressive as the North Grove, but it gets fewer visitors and doesn't seem as touristy. Closed in winter.
Park history

---
The North grove was the first sequoia grove to become widely known. It was discovered during the height of the gold rush by a hunter who was tracking a grizzly bear to feed Murphys water company workers (apparently construction workers in the 1850s ate bear meat). The first tree that he found, which at the time was the largest known tree in the world, was cut down a year later and turned into a traveling exhibition by the water company's owner. Meanwhile, the park was developed as a tourist attraction by a wealthy entrepreneur from Murphys.