The redwood grove at Henry Cowell has been a well-known destination since the very early days of Santa Cruz because it has one of the largest trees in the area. It was the first redwood grove to be saved from logging, and for a time it was a privately-owned resort. A train line runs through the grove and has been bringing vistors from Santa Cruz since 1875.
The small old-growth grove is the park's most-visited destination, but it's surrounded by miles of heavily-logged second-growth redwood trails. The deep San Lorenzo River gorge and lush Fall Creek are especially popular among locals.
Old-growth redwood hikes

---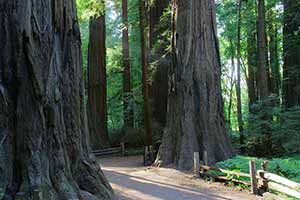 ★★
The Redwood Grove Loop Trail
Length 0.8 mi · Climbing 20 ft
A popular trail that loops through the park's small old-growth redwood grove.
Other hikes

---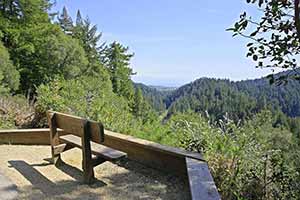 ★★★
Four Crossings
Length 6.6 mi · Climbing 1360 ft
A hilly hike through attractive woodland with four fords of the San Lorenzo River. Should only be attempted in late summer or early fall, when the river is low enough to cross.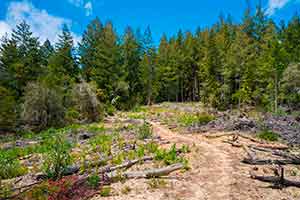 ★
The Truck Trail and Fall Creek
Length 7.0 mi · Climbing 1480 ft
Provides a fascinating look at the effects of the August 2020 CZU Lightning Fire and the efforts to fight it.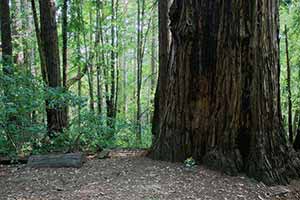 ★
Big Ben and Fall Creek
Length 8.2 mi · Climbing 1760 ft
Starts in a lush, attractive second-growth redwood forest along Fall Creek, then climbs into an area that was burned in the August 2020 fire. An optional side trip leads to the park's most heavily-damaged area.
Campgrounds

---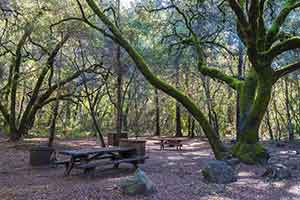 ★★
Graham Hill Campground
Apr–Oct · $35/night + $8
Henry Cowell's campground is in a hilltop oak grove across the street from a Santa Cruz suburb; it gets some traffic noise.