★
Wilder Ranch State Park
Featuring the Englesman and Enchanted Loops
---
Wilder Ranch is a large and popular park just outside of Santa Cruz. Unlike Nisene Marks and Henry Cowell, which are almost entirely carpeted in redwoods, Wilder has a nice variety of different environments, with open fields and oak woodland dominating the southern half of the park, and redwoods in the canyon bottoms, mainly in the north.
Much like the other parks in the area, the redwood forests have been heavily logged and still have a worn-out look, with small trees and, in many places, a lack of groundcover. The south-facing hillsides of the park are generally less lush and attractive than the west-facing hillsides of Big Basin, Butano, or Purisima Creek.
Nonetheless, the park is very popular, especially with mountain bikers; at peak times on the most popular trails you might see a group every 1–2 minutes.
This loop hike mainly sticks to the singletrack trails, which are generally more scenic than the ranch roads, although the narrow trails can make it a little annoying to pass the frequent mountain bikers. The loop shows off a nice cross-section of different environments.
Start in the parking lot off of Highway One. Walk downhill and turn left to pas through the cluster of old ranch buildings. Cross under Highway One and then turn onto the Englesman Loop. This heavily-trafficked part of the loop was recently replaced with a singletrack trail, which is a lot more scenic than the old dirt road but makes it harder for bikers to pass.
The trail climbs through oak woodland before breaking out into open grassland. Turn onto the Old Cabin Trail, which descends into a canyon filled with the first redwoods of the hike before climbing back into another open field.
Take the Eucalyptus Loop, which passes through another redwood-filled canyon, to the Enchanted Loop.
The Enchanted Loop descends into a third and final redwood-filled canyon, this one larger and more dramatic than the others, with a lush, attractive groundcover of ferns and redwood sorrel, although the trees are still very small. It?s one of the lesser-used trails in the park, although there are still a few mountain bikers.
The trail climbs out of the canyon onto an open hilltop. The return trip mainly runs through open fields. The most scenic part is near the end, where there are views of the coast and ocean.
---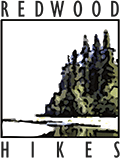 © 2020 David Baselt