Del Norte Coast Redwoods State Park
---
A redwood park on high coastal bluffs
Perched on a steep hillside above the Pacific Ocean, Del Norte Coast Redwoods is the only major redwood park that doesn't have any lowland redwoods. Surprisingly, though, the park still has some very impressive groves. The high, west-facing hillside is perfectly positioned to catch the summer fog as it streams off the ocean, keeping the trees well-nourished through the summer droughts. Because the higher slopes get more fog (and because redwoods don't like salt spray), the trees get bigger toward the top of the hill — exactly the opposite of what you'd find in any other redwood park.
With its often-foggy weather and its abundance of rhododendrons, the park is especially photogenic. If you've ever seen a picture of huge redwoods in the fog with masses of pink flowers at their bases, it was probably taken here.
As a hiking destination, though, Del Norte Coast Redwoods is a little disappointing. Highway 101 runs right through the narrow band that contains the largest and most scenic redwoods, just west of the park's highest ridge, so those photogenic scenes are usually accompanied by the roar of trucks. Also, there are only two old-growth trails, and the longer of the two (the Coastal Trail), while very scenic, misses most of the really good redwoods.
Del Norte Coast Redwoods has a very nice campground. Located well away from the highway, it's the only one of the three state-owned campgrounds in Redwood National and State Parks that doesn't get any traffic noise. Although there aren't any old-growth redwoods, the campground is located in an attractive wooded area and it feels less crowded than other local campgrounds. The main drawback is that seeing any old-growth redwoods requires getting in a car and driving.
The Mill Creek Watershed

---
Del Norte was dramatically expanded by the addition of the Mill Creek watershed. This 40-square-mile property was purchased from Stinson Lumber Company in 2002 to protect Jedediah Smith Redwoods from the detrimental effects of upstream logging. The area was almost entirely clearcut in the 1970s, 80s, and 90s and only a few small old-growth fragments remain.
The watershed contains an extensive network of dirt and gravel logging roads, many of which are now being removed. Some of the remaining roads have been designated as trails and are open to the public for hiking, horseback riding, and mountain biking between 9 am and 5 pm on weekends (if you're not out by 5 pm you'll be locked in). The state plans to eventually designate a new trail network (still based on the old logging roads) in addition to building a visitor center and much-needed in-park lodging on the site of the former mill.
Although part of Del Norte Coast Redwoods State Park, the Mill Creek Watershed is completely different from the rest of the park. It still has the feel of recently-logged timberland; for example, the tree canopy does not close over most of the roads, giving them a bright, open appearance. Although there aren't any noteworthy sights, it's actually quite a pleasant place to go for a walk, with miles of quiet, green, well-maintained roads. There's an occasional scenic view, and the roads make for easy hiking, biking, or riding
It's a good idea to continuously record a track with a GPS unit and also use a good map when hiking or riding in the Mill Creek Watershed. There are a lot of roads here, they all look the same, and they go on for miles without ever arriving anywhere. Fortunately the timber company road signs are still up, but there are few park signs to keep you on the trail or direct you to a destination. If you get lost here, it could be very difficult to find your way out.
Old-growth redwood hikes

---
*** Damnation Creek Trail (4.0 miles)
Del Norte's most scenic trail descends 1100 feet through old-growth redwoods from Highway 101 to a small rocky beach.
** Coastal Trail, DeMartin Section (12.6 miles)
This enjoyable hike is one of the best sections of the Coastal Trail. About half of the hike is through old-growth redwoods; the rest is through mixed-species woodland.
** Coastal Trail, Last Chance Section (13.0 miles)
This hike starts with a 3-mile climb through non-redwood forest, then enters old-growth redwoods. If you're just interested in the old growth, start from the Damnation Creek trailhead and go north until the old growth ends; that way it's a flat, easy 10-mile out-and-back entirely through old-growth redwoods.
Other hikes

---
* Crossover Road (15.8 miles)
This long, peaceful hike explores the old logging roads of the Mill Creek Watershed.
* Picnic Road (3.1 miles)
Part of the Mill Creek Watershed, this old dirt road runs through pleasant leafy scenery along a branch of Mill Creek.
* Hobbs Wall and Saddler Skyline (7.0 miles)
This loop explores a logged hillside above the Mill Creek campground.
Campgrounds

---
**** Mill Creek Campground ($35/night + $8)
Mill Creek Campground doessn't have any any old-growth redwoods, but it's in an attractive wooded area and feels quieter and less crowded than other local campgrounds. The main drawback is that you have to get into your car and drive to see any old growth.
*** DeMartin Backcountry Camp (free)
DeMartin is a backpacking campground on the Coastal Trail. It's on a sunny plateau with patchy spruce and alder woodland but no redwoods.
Getting to Del Norte Coast Redwoods State Park

---
The park is on Highway 101 just south of Crescent City and about an hour north of Arcata. There is no main entrance and no visitor center. Like most of Redwood National and State Parks, there's no entrance fee.
---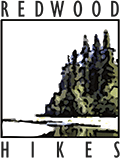 © 2008, 2014 David Baselt