Unlike every other major redwood park, where the biggest trees are found at the lowest elevations, Del Norte Coast's biggest trees are found at the top of a steep west-facing hill that perfectly catches the summer fog streaming off the ocean, keeping the forest giants well-watered.
With its huge redwoods, frequent fog, and an abundance of rhododendrons, the park is one of the best places to photograph redwoods.
The drawback of Del Norte Coast Redwoods is that it only has two old-growth trails, and Highway 101 runs right through the narrow ridgetop strip where the largest and most scenic redwoods are found. So the park's most photogenic scenes are usually accompanied by the roar of trucks.
There's no main entrance, no visitor center, and like most of Redwood National and State Parks, no entrance fee.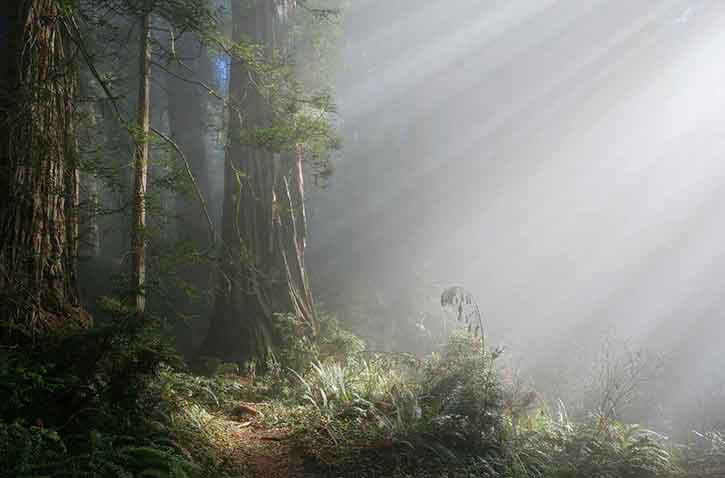 Old-growth redwood trails

---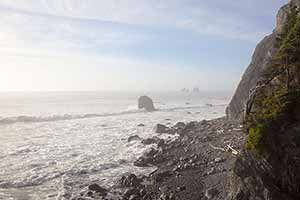 ★★★
Damnation Creek Trail
Length 4.0 mi · Climbing 1170 ft
The park's most scenic trail descends through old-growth redwoods from Highway 101 to a small rocky beach.
★★
Coastal Trail, Last Chance section
Length 13.0 mi · Climbing 2810 ft
Follows an old alignment of Highway 101 through mixed-species woodland on high coastal bluffs, then turns inland and runs through old-growth redwoods. No views after the first half-mile.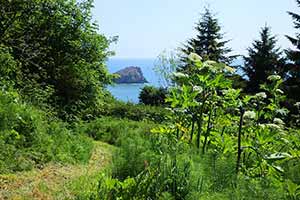 ★★
Coastal Trail, DeMartin section
Length 12.6 mi · Climbing 2370 ft
This enjoyable hike starts in attractive mixed-species woodland and climbs into old-growth redwoods. One of the most enjoyable sections of the Coastal Trail.
Other trails

---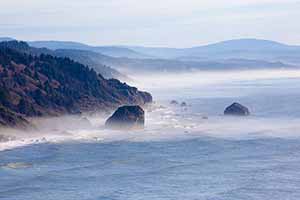 ★★
Coastal Trail, Klamath section
Length 7.8 mi · Climbing 1390 ft
Runs along steep, spruce-covered bluffs high above the ocean, with no roads or other development in sight. There are no redwoods, but the last half-mile has some great ocean views.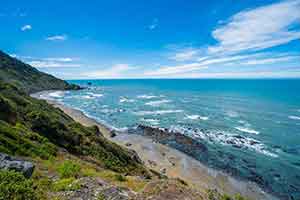 ★★
Enderts Beach
Length 1.5 mi · Climbing 200 ft
A short, popular walk along the bluffs to an isolated beach with tidepools. Sometimes closed due to landslides.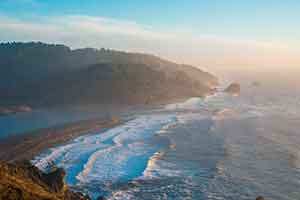 ★★
Klamath River Overlook
Length 0.8 mi · Climbing 350 ft
A picnic area on a high bluff with a commanding view of the coast. A trail descends to a viewpoint far below, but the view from the parking lot is actually better.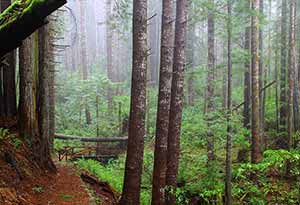 ★
Hobbs Wall and Saddler Skyline
Length 7.0 mi · Climbing 1260 ft
A loop through second-growth redwoods on a steep hillside above the Mill Creek Campground.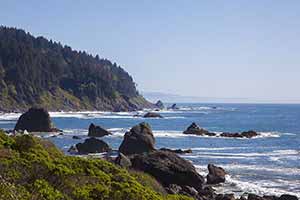 ★
Yurok Loop
Length 1.2 mi · Climbing 100 ft
A short loop with some nice ocean views that starts from a rest stop alongside Highway 101.
Drive-in campgrounds

---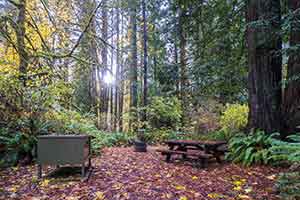 ★★★★
Mill Creek Campground
May–Sep · $35/night + $8
A relatively new campground that's somewhat out of the way, but feels less congested than the more centrally located campgrounds.