★
Holbrook Grove
---
Length 0.6 mi · Climbing 20 ft
Holbrook Grove is on a small flat along the banks of the Eel River. Maybe because the flat is elevated above the river and isn't actually flat (it slopes gently toward the river), the trees here aren't nearly as impressive as the true alluvial-flat groves to the north in Humboldt Redwoods or to the south in Richardson Grove. Nontheless, it's still an attractive grove and an enoyable short walk.
The parking area is an unmarked dirt road off of Redwood Drive.
To see the grove, walk around the gate on the dirt road, which is probably an old alignment of Redwood Road. The largest trees are found around the parking lot and just past the gate; the trees get smaller as you walk down the road. Redwood Drive is just a few yards away up an embankment, and every few seconds a car roars by. There's a lush groundcover of ferns and sorrel with lots of poison oak. There are a few glimpses of the gravel riverbanks, but you can't actually see the river.
At the end of the road there used to be a path that led to the river, but the path is now overgrown, eroded, and blocked by a fallen tree.
---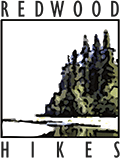 © 2009, 2017, 2021 David Baselt