★★
Whittemore Grove
---
Length 0.1 mi · Climbing 10 ft
The Whittemore grove is the most impressive of Dewitt's three groves. It's just across the Eel River from the town of Redway, and a half-mile of busy Briceland Road runs through middle of the grove. The road actually provides the best look at the old growth, but there's also a little parking lot where you can get out of the car and walk through a small but attractive patch of pretty good-sized old-growth redwoods. Most of the groundcover in the middle of this grove has been worn away; this seems to be a popular stopping point and people are often walking around among the redwoods.
To reach the grove, take Briceland Road through Redway and then cross the Eel River. The twisty two-lane road gets a surprising amount of traffic, with lots of pickup trucks roaring along at ludicrously high speed.From the bridge across the Eel River there's a very scenic view of the redwoods lining the banks and the hillsides above. Just a few yards past the river is a parking area on your right.
For such a small redwood grove, Whittemore Grove is surprisingly busy in the summer, with a car pulling into the little parking lot every five or ten minutes. Maybe that's because it's on a road to the coast or because of the nearby campgrounds.
There aren't any official trails in the grove, just a gated dirt road that cuts through the grove for about 300 yards. The road turns right and starts to climb a hill before the old growth gives way to redwood uplands with small redwoods or, in places, no redwoods. The road is actually a driveway for the nearby YMCA campgound, and depending on the time of year, campground guests (who have a key to the gate) may drive by on the road, making it somewhat unpleasant for a walk of more than a few minutes. In any case, the road isn't especially scenic after the old growth ends.
If there's enough groundcover, there may also be a short unofficial trail through the grove.
---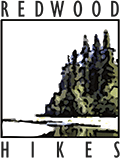 © 2009, 2017, 2021 David Baselt