★★★
Bishop Ranch Open Space Regional Preserve
---
San Ramon
With its attractive blue oak groves and scenic hilltop views, Bishop Ranch has a lot of scenery for such a tiny park. The small size makes it seem friendlier and more approachable than other parks, although it doesn't have the remote feel of Las Trampas or Pleasanton Ridge.
The main drawback of the park is that the trails tend to be rough and steep, although that's pretty normal for the East Bay.
The main ridgetop trail is quite popular; at peak times you might see a group every two or three minutes. This is an especially popular park for people out with their dogs.
This loop feels like a miniature version of Las Trampas' Eagle Peak loop, with scenery that's very similar if perhaps a little less dramatic.
From the trailhead on Morgan Drive, after a brief level section the trail abruptly begins a surprisingly steep climb through an attractive, open blue oak grove. The woods gradually open up and the trail emerges onto a sunny, open ridge, where it climbs two step hills with increasingly scenic views of the surrounding oak-wooded hills and the San Ramon Valley.
The trail finally levels out at the ridgetop.
There isn't much of a chance to enjoy the ridgetop, though, before it's time to turn onto the Stream View Trail. This dirt road and is relatively little-used and is easily missed since it's faint and not marked. Most people just hike out and back on the Grey Fox and Redtail Hawk Trails, since the Stream View Trail is somewhat less scenic, but I still think the loop hike is more satisfying.
The trail descends steeply, passing through scattered blue oaks before reaching the edge of the suburbs. It then rises and falls slightly as it runs through pleasant woods at the base of the hillside. This part of the trail can get muddy in winter, although it dries out quickly once it stops raining.
At the next intersection, turn left onto a singletrack trail, which descends into very dense woods with small trees and heavy undergrowth. The trail looks like it was originally an unofficial trail; it's narrow, overgrown with poison oak, and has a lot of steep ups and downs. Near the end, the trail splits and crosses the creek a few times.
---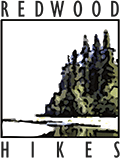 © 2018, 2023 David Baselt