This huge park features mile after mile of ranch roads undulating over rolling hills and oak-dotted grasslands. The east side is more wooded, while the west is more open and also more difficult, with lots of steep gradients. There aren't any real payoff destinations, but the park has some great views and nice picnic areas.
The park is best in winter and spring, when the grass is green, and is very popular during this time. In summer the park is less attractive and, although it's relatively cool for an East Bay park thanks to the Golden Gate sea breeze, is practically deserted. The central basin and Briones Crest in particular has a lot of thistle that gives the landscape an unattractive blotchy look in summer.
Like most of the East Bay, Briones gets really muddy for up to two weeks after substantial rainfall; once its cows come through and churn up the mud, some trails become practically impassable. The more popular trails leading away from the parking areas have been covered with gravel, which helps a lot.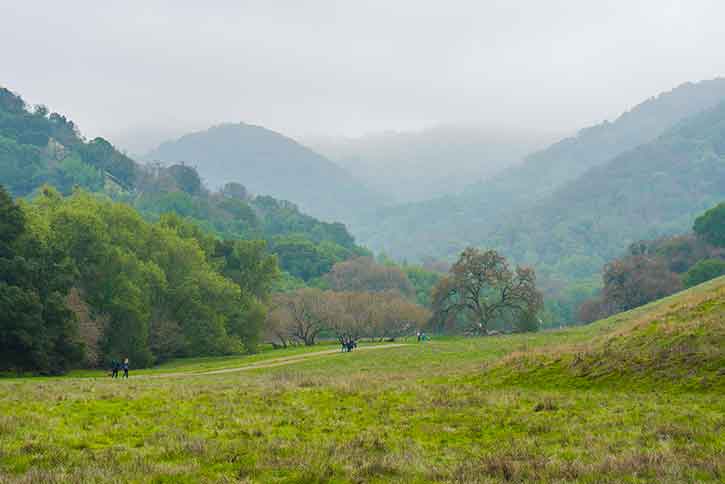 Hikes

---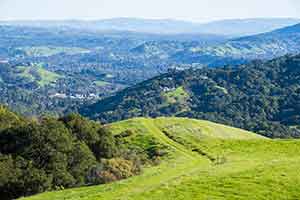 ★★
Spengler Trail and Briones Crest
Length 10.5 mi · Climbing 2600 ft
A full-day hike through the suburban east side of Briones Regional Park. It's a challenging hike with lots of ups and downs, but it's really quite rewarding, with striking panoramic vistas, attractive oak woods, and a nice variety of scenery.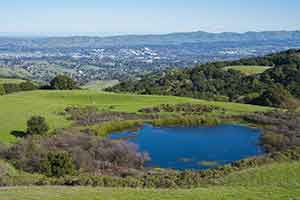 ★★
Sindicich Lagoons
Length 5.7 mi · Climbing 760 ft
A hike to Briones Regional Park's most popular destination, an open, rolling hilltop meadow on top of Briones Crest.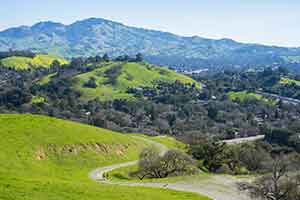 ★
Lafayette Ridge
Length 6.6 mi · Climbing 1670 ft
Starts just off Highway 24 and winds up a hillside to an open ridge with fine views of the suburban Walnut Creek area. The northern half has a lot of really steep ups and downs.