The very popular Lake Chabot Regional Park features a busy little marina that rents kayaks and motorized fishing boats, a cafe that offers burgers and sandwiches to enjoy on a patio overlooking the lake, and some picnic areas surrounded by a small lawn.
Neighboring Anthony Chabot Regional Park has a large wooded family campground, an 18-hole golf course, and horse stables. There used to be a shooting range, an archery range, and an off-road motorcycle area (where the Soaring Hawk Trail is now), but those have been closed, making the park much more peaceful. Today the developed areas are all at the southern end of the park, leaving the rest of the park surprisingly remote and woodsy.
Anthony Chabot features one of California's largest eucalyptus groves, which was originally planted for lumber. The park also has a few second-growth redwoods, the paltry remains of a naturally occurring stand that was logged in the 1800s.
Hikes

---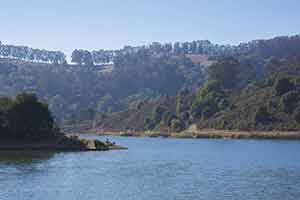 ★★★
Lake Chabot
Length 9.7 mi · Climbing 780 ft
A popular hike around scenic Lake Chabot, half on busy and mostly paved lakeshore trails, half in quiet woods with more of a backcountry feel. An enjoyable and memorable hike.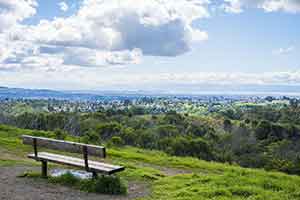 ★★
Lake Chabot Bicycle Loop
Length 11.1 mi · Climbing 1300 ft
Mostly runs through the quiet, wooded interior of the park, with a bit of lakeshore at the beginning and end.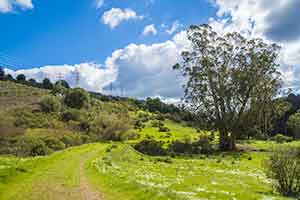 ★
Grass Valley
Length 8.3 mi · Climbing 1180 ft
A hike into quiet Grass Valley, featuring sunny Bort Meadow and a densely-wooded area with a few scattered redwoods.
Drive-in campgrounds

---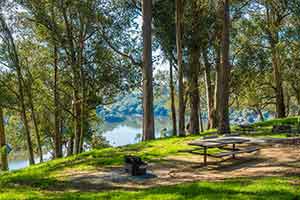 ★★
Anthony Chabot Family Campground
$25–$45/night + $8 · Apr–Oct
A popular campground in an attractive ridgetop eucalyptus grove above Lake Chabot. It's pleasantly woodsy and filled with birdsong, but it doesn't offer much privacy.