★★
Anthony Chabot Family Campground
---
$25–$45/night + $8 · Open all year
Chabot's popular campground is in an attractive ridgetop eucalyptus grove just outside San Leandro. When it's not too busy, the campground is peaceful, woodsy, and filled with birdsong. It also offers access to some nice hiking trails around Lake Chabot.
The main drawback of Chabot is that most sites don't have a lot of privacy, since the grove is very open and the sites tend to be close together. The campground can get crowded on summer weekends and, like most popular campgrounds, there's a chance that people may be playing music or partying loudly late into the night, or little kids could be running around screaming at the crack of dawn. Also, this is a suburban park, so depending on the weather conditions you can sometimes hear the distant sound of airplanes or BART trains. On the other hand the gun range that used to be on the nearby ridge closed in 2016, making weekends much more enjoyable.
Details

---
Each campsite has a fire ring (you're supposed to buy the firewood from the campground, not bring your own) and picnic tables. The bathrooms have showers and flush toilets and are usually very clean.
Regular campsites are $35/night, and you can bring up to 2 cars. There's an extra $2 charge for each dog that you bring. The gates close at 10 pm, so if you're planning to visit San Francisco you have to start heading back by about 8 pm.
Tent sites

---
Most of the campground's sites are intended for tent camping.
The best site overall is site 69, which has a great view of Lake Chabot. The drawbacks are that it's pretty far from the restrooms, and everyone from the campground who walks down to the lake will walk or ride by. Site 70 has a slightly better view but a little less privacy. Sites 71 – 75 are also very nice but have slightly more limited views. All of these sites are only available in the summer.
Sites 43, 44, and 45 are the quietest sites and have the most privacy, since they're over a hill from the other sites. The sites are a little small, though.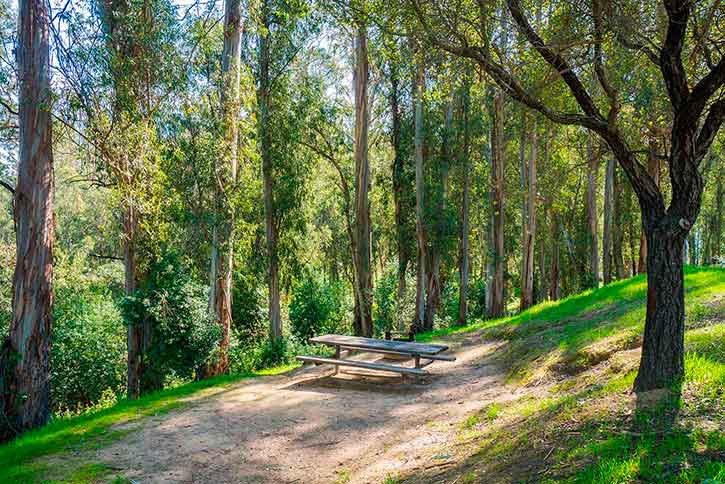 Site 56 is in a relatively quiet part of the campground but has less privacy.
RV sites

---
The campground has some nice shady RV sites near the entrance that cost $45/night. This is one of the few campgrounds in the Bay Area that's designed for RVs but doesn't look like a big parking lot. RVs up to 35 feet are allowed, but the roads are rather narrow and winding for large vehicles. Site 5 and ADA site 6 (which requires a disabled placard) are pull-through sites. Generators are not allowed at any time.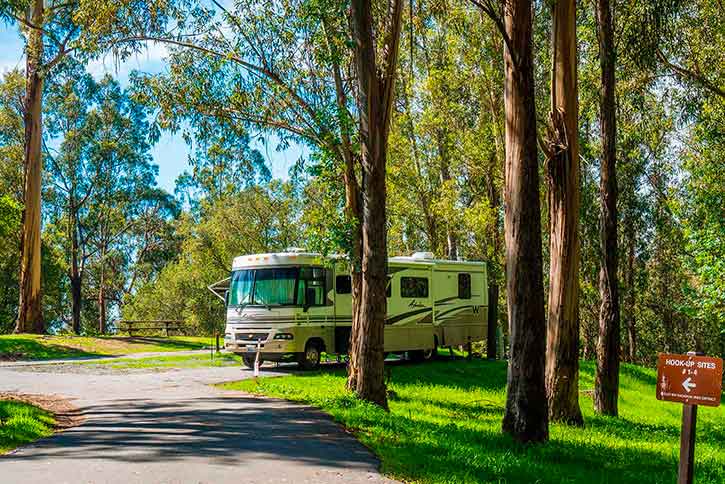 Walk-in sites

---
The walk-in sites are lower down on the ridge, below the RV sites. The campsites are about a 250 yard walk from the parking area. This is the least private part of the campground; the sites are densely packed together in a grassy clearing with scattered eucalyptus stumps, and you can pretty much see every site from any other site. Sites 13 and 14 are the exception, since they're separated from the other sites by a little hill.>
At $25/night, these sites are a little cheaper than the regular sites.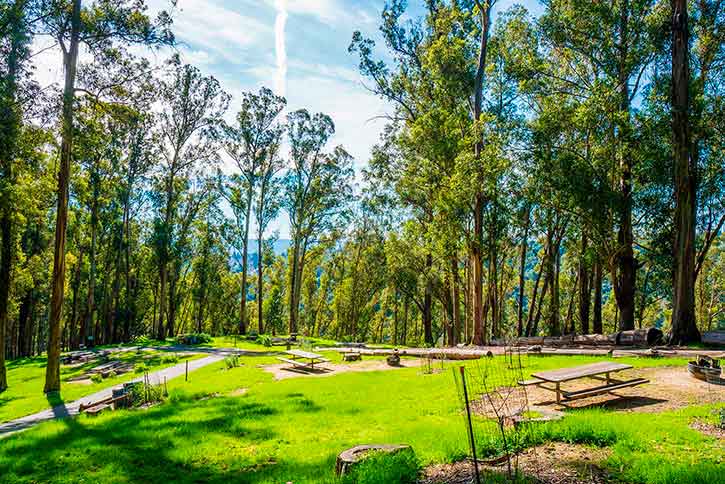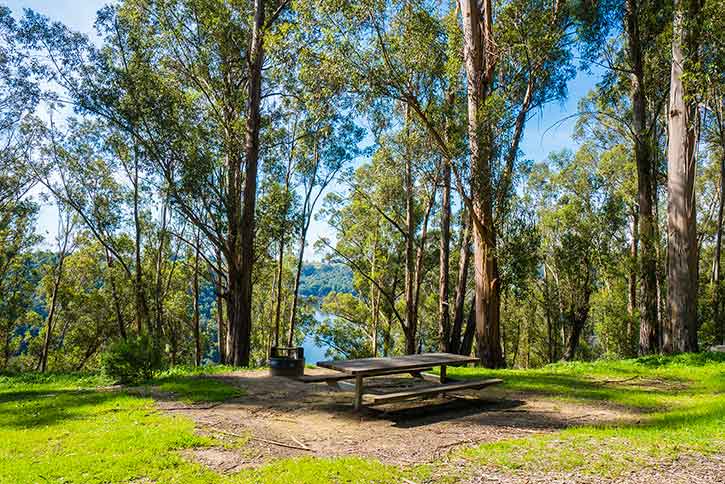 Links

---
Here's the campground's location in Google Maps.
Reservations can be made online at Reserve America for an $8 fee. Reservations must be made at least 48 hours but no more than 12 weeks in advance.
---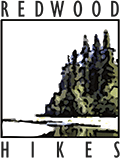 © 2019 David Baselt