★★
Claremont Canyon Regional Preserve
---
A small Berkeley park with great views
Claremont Canyon has one trail, a short, steep hike that climbs to one of the most spectacular views in the Berkeley Hills. There are a lot of scenic views in the area, but this one is especially good because it's high, yet it's also close to the urbanized flatlands of Berkeley and Oakland.
The trail is very popular; on a nice weekend you might pass a group every 1–2 minutes. The trail connects to a network of official and unofficial trails on the UC Berkeley campus which are less heavily-used.
Park on Stonewall Road, just behind the Claremont Hotel. The first half of the trail climbs through a eucalyptus grove. At the first switchback there's a break in the trees with a nice view over UC Berkeley. After a few more switchbacks the trail emerges from the woods and climbs straight up the hill. Especially near the top, the dirt road is so steep that it can be difficult to avoid sliding on its gravelly surface. Sweeping views over much of the Bay Area more than make up for the difficulty of the climb, with downtown Berkeley, downtown Oakland, and UC Berkeley the most prominent sights.
At the top of the hill, there's a bench and the trail ends at paved Panoramic Way. This is the most common turnaround point, but you can go right on Panoramic Way (which looks like a driveway) to connect with the rest of the preserve's trails, which aren't as scenic as the initial climb. Another popular option is go left and connect with a very steep and eroded unofficial trail that descends to the Clark Kerr campus, then cut through the campus track to return to the Stonewall Lane.
---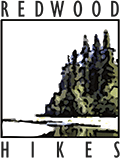 © 2013, 2017, 2022 David Baselt