★★
The Tolman Peak Trail
---
Length 5.0 mi · Climbing 930 ft
The Tolman Peak Trail has a nice sample of Dry Creek Pioneer's best scenery, with lots of rolling grassy hills, some attractive woodland, and a steep climb to some nice views of the Bay Area. Much of the hike is exposed and can be unpleasant on a hot summer day, so it's best in the late afternoon, when the sunlight isn't as harsh and the grasslands are more attractive.
The entire flat part of this hike is fairly popular; a lot of people come here for an easy 2–3 mile out-and-back hike or walk with their dog. At peak times you may see a group every 2–3 minutes. The hilly part of the loop — which is what really makes the hike satisfying — gets a lot fewer visitors, maybe a group every 10–15 minutes.
Park at the free Dry Creek Staging Area on May Road. The parking lot can get really full on weekend afternoons, but usually at least a few spots are available. The Dry Creek Garden is right next to the parking lot, although I've never actually been there because it's only open Thursdays, Fridays, and Saturdays from 10 to 4.
The trail briefly passes through an attractive stand of large oaks before emerging into the sun-blasted grasslands. The trail turns into a gravel road that runs through a shallow, open valley surrounded by rolling hills, following the edge of the woods. To your right, a low ridge completely isolates this part of the park from the suburban Bay Area.
The first mile or so of the hike can be a little dull, but after that it gets progressively more interesting. After passing a corral and a few eucalyptus trees, the canyon becomes narrower. Turn left onto a dirt road that climbs steeply through a small gully. The trail switchbacks out of the gully and climbs high enough to get some views of the Bay Area. Some traffic noise and the hooting of a train can sometimes be heard. Turn right onto the South Fork Trail, which passes by the wide, grassy summit of Tolman Peak.
The most scenic part of the hike is the backside of Tolman Peak. As the trail starts to descend, there are some great views of the rolling hills and wooded canyons to the east. The trail turns into singletrack as it enters a very nice oak grove; it then descends precipitously to the canyon bottom. The woods are surprisingly attractive, especially considering how hot and dry the rest of the park is.
The wooded part of the trail doesn't last very long, and the trail soon turns into a dirt road and leaves the woods. The road, as it winds through the canyon surrounded by grassy hills, is still quite attractive, especially when the hills are lit up with the golden rays of the late afternoon sun.
Related websites

---
---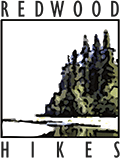 © 2014, 2017, 2022 David Baselt