At Eagle Spring Backpack Camp you can watch the sun set from Mission Peak, then wander down to gather round the warmth of your cookstove while the lights of the Tri-Valley twinkle in the distance.
The camp is just below Mission Peak on the Ohlone Wilderness Trail, on a small hilltop with a fine view of the Sunol Valley and (at night) the lights of the cars on Highway 680. Typically for an East Bay camp, it's in a cow pasture and is surrounded by a fence to keep it clean of cow manure.
Eagle Spring doesn't feel as isolated as the other Ohlone Wilderness camps, mainly beacuse it's near the very popular Mission Peak with its spectacular views of the suburban Bay Area. The clump of people on the peak itself can't be seen or heard from the camp, but on weekends you can sometimes hear people hiking up or down the relatively little-used south side approach.
The camp is just above a dense strip of trees that lines Laurel Canyon, but otherwise the area around the camp is completely devoid of trees, making it feel somewhat harsh (and hot) in summer. In winter the exposed location can get quite windy and cold.
There are four sites. Sites 1–3 are pretty similar except site 1 is next to the outhouse. Each of these sites is flanked by two little trees. The trees have been growing pretty well since they were planted when the campground opened in 2005, but the sites are still pretty exposed. Probably due to the dry weather recently, one of site 3's trees isn't doing so well.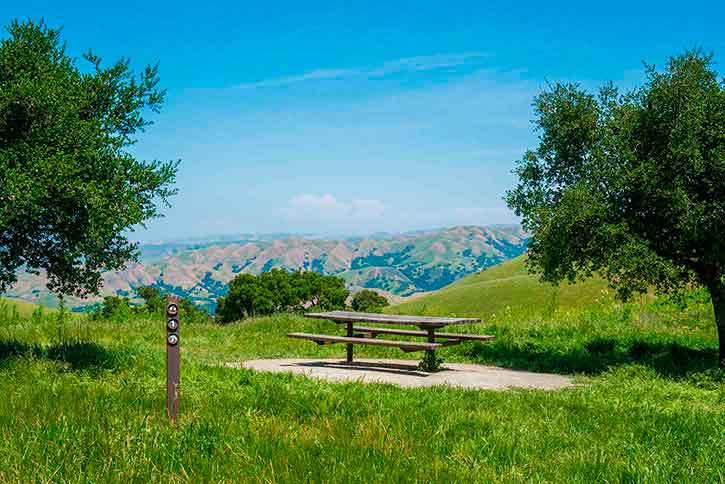 Site 4 is the most popular site, since it's tucked under a huge laurel tree whose branches descend to the ground, forming a cool, shady, and subtly bay-leaf-scented enclosure. An opening allows a scenic view of the surrounding countryside. The only problem is that there's no level ground.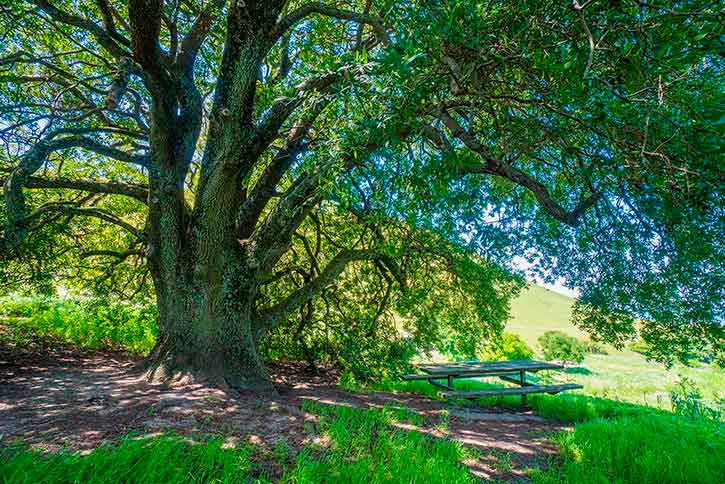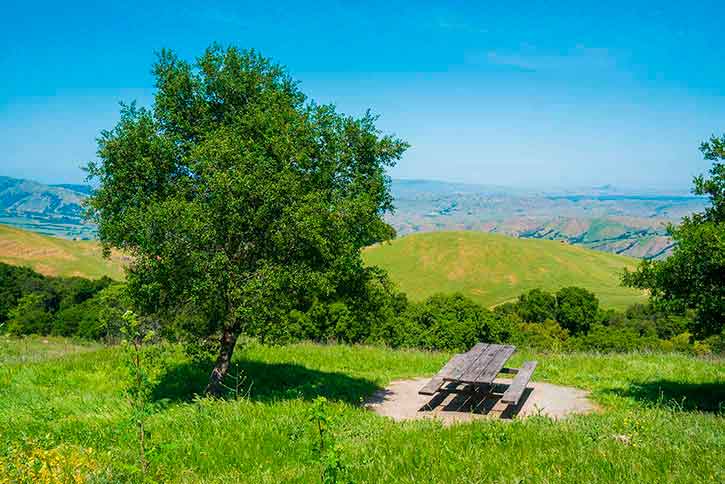 Details

---
There's no overnight parking at the Fremont trailheads, so most people hike in from Sunol Regional Wilderness instead. The route up the east side of the peak isn't quite as scenic as the west side, but it's partly shaded, less steep, and has a lot fewer people (usually none). It's about a four-mile hike.
Fires are not allowed. Reservations are required and must be made at least 5 days in advance.
Links

---
Check availability using Reserve America. All the Ohlone Wilderness Trail camps are on the "Sunol" page even if they aren't in Sunol. A "C" means the site is available. To actually make a reservation you have to call EBRPD at 1-888-327-2757.