★
Feeder Trail #1
and Dutra Ranch
---
Length 7.7 mi · Climbing 1460 ft
This route began as a stagecoach road in the 1850s. In 1952 it was turned into an access trail for the California Hiking and Riding Trail, an audacious and never-completed 3000-mile loop with campgrounds every few miles. To encourage the use of the partially-completed segments for shorter trips, a system of feeder trails was proposed for populated areas, but Feeder Trail #1 was the only one ever dedicated in Contra Costa County.
The trail starts at the Franklin Canyon Stables and is mainly used by horseback riders. It climbs over Franklin Ridge, where it passes through Dutra Ranch, a small open space preserve. The entire route is very quiet and litttle-used.
The best part of the hike is the open ridgetop, which has some views of the surrounding hills. As the trail descends off the ridge it passes through quiet countryside and a working ranch. The trail ends at Ferndale Road, but parking isn't allowed there so it's not possible to start hiking from that end. An extension of the trail to Pereira Road has been proposed.
Start at the pullout on Dutra Road just past the railroad underpass. The wide dirt road climbs past a large stable and through unexceptional woods. The road is heavily used by horses and is sometimes muddy for as long as a month after it rains. Traffic noise drifts over from Highway 4.
Reaching Dutra Ranch, the trail breaks out into open grasslands but continues to climb.
As the trail leaves Dutra Ranch it becomes much quieter and little-used; there's no more traffic noise or horseshoe tracks. Before it was made a part of the Bay Area Ridge Trail in 2010, this bit of trail was unmaintained and had deteriorated into an overgrown, barely-visible track. It's now been regraded and now looks more like a regular dirt road, making it easier to hike but removing some of the wonderful sense of cutting through remote countryside.
The trail levels out and reaches a farmstead. There's a gate that may be tied shut with some rope; the chain isn't enough to keep the cows from opening the gate. A sign directs you into an orchard where the trail completely disppears. Don't take the dirt road past the farm buildings, since it's blocked by a gate; instead, cut through the tall grass of the orchard, keeping the fence to your left, and pick up the trail on the other side of the orchard.
The trail effectively ends at Ferndale Road. To your right, the old roadbed continues in a heavily overgrown trench, but soon peters out completely.
On the way back, take the Dutra Loop, which starts on an open ridgetop with the best views of the hike, then dives into laurel and oak woodlands.
Related websites

---
---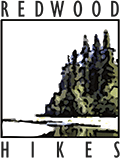 © 2018, 2023 David Baselt