★
Fernandez Ranch
and EBMUD's Pinole Watershed
---
Length 5.4 mi · Climbing 760 ft
Background

---
Fernandez Ranch is the largest Bay Area park that's owned and operated by a land trust and is open to the public. The park is something of a showpiece for the John Muir Land Trust; everything from the trails to the parking lot and even the trail maps have been developed to exceptionally high standards.
The park gets a steady stream of visitors on nice spring weekends, but most of them are actually here to visit the neighboring Pinole Valley Watershed. Fernandez Ranch is, in fact, the best way to access the Watershed, since the Watershed's other entrances either don't have any parking or have steep or poorly-maintained access trails.
The trail loop described below combines several wooded singletrack trails, a bit of a rarity in the East Bay, climbing to an open ridgetop and then crossing into the Pinole Valley Watershed. The Watershed is by far the most scenic part of the loop; the trails in Fernandez Ranch itself are pleasant but don't have any really great views.
Fernandez Ranch is free, but to complete this loop you'll need a $3 Watershed permit that can be bought online from EBMUD.
Here's the trailhead location in Google Maps and Google Street View.
From the parking lot, take the dirt road across the large steel bridge. The trail climbs through a valley. Reaching a little steel windmill, turn right onto the Woodland Trail, which switchbacks up a hillside.
After crossing over a ridge, the trail enters a wooded area. The woods aren't anything special at first, but near the end the trail briefly climbs through an open oak grove that's quite attractive.
The scenery continues to improve as the trail emerges onto an open, grassy ridgetop. Turn left onto the Canyon Loop Trail and left again onto the Franklin Ridge Trail to reach the gate for the Pinole Valley Watershed. Continue into the Watershed, where the trail winds past views of rolling, oak-studded hills. This is not only the best part of the hike; it's also the most enjoyable part of the entire Watershed.
When the trail descends to an intersection, turn left and go through the gate to re-enter Fernandez Ranch. Immediately turn onto the Woodrat Trail, which winds downhill through oak woodlands.
Reaching the bottom, stay to the right to pick up the Woodrat Trail, which switchbacks uphill through oaks to reach a low, grassy ridgetop. The official trail map promises two benches in this area, but at least at the moment there aren't any benches.
The trail descends into a wide, flat valley. Continue along the Black Phoebe Trail to the parking lot.
---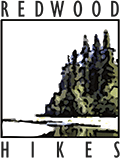 © 2018 David Baselt