★★
Garin and Dry Creek Pioneer Regional Parks
---
Hayward
Background

---
These adjoining parks in the low rolling hills above Hayward were created from two 19th-century ranches. A small ridge keeps the most-used areas well isolated from the Hayward subarbs, so even though the Bay Area is just yards away, the parks feel remarkably quiet and natural.
Garin is the more developed of the parks, with busy picnic sites at the edge of a large lawn, a visitor center in a red barn, and a picturesque duck pond. There's a kite-flying field and a steep hillside where kids sled down on the grass. On nice weekends there always seem to be several huge group barbeques going on around the lawn, and in early September the park has a popular apple festival that features unusual varieties of the fruit from the park's apple trees.
Dry Creek is more natural, with open, grass-covered hills that provide great views of the Bay Area. The park has a historic cottage and garden, but its trails are the main draw; the ones that run along the bottom of the valley are especially popular.
Hikes

---
** The High Ridge Loop Trail (5.8 miles, 1020 ft)
This scenic loop climbs to an open ridge with fine views over Hayward and the San Francisco Bay, then returns through a series of attractive wooded canyons.
** The Tolman Peak Trail (5.0 miles, 930 ft)
The Tolman Peak Trail shows off a concise cross-section of Dry Creek's best scenery, with lots of rolling grassy hills, some attractive woodland, and a steep climb to some nice views of the Bay Area.
* The Vista Peak Loop Trail (4.6 miles, 760 ft)
This loop around the low rolling hills of Garin Regional Park features a trip through a wooded canyon. It's quite enjoyable and scenic, but somewhat overshadowed by the more dramatic High Ridge Loop.
---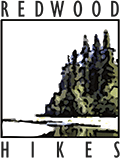 © 2018 David Baselt