★
Grass Valley
---
Length 8.3 miles • Climbing 1180 feet
Chabot Regional Park used to be much smaller, centered on Grass Valley, and known as Grass Valley Regional Park. Now that there aren't any livestock the valley isn't as grassy as it used to be, but it's still a central feature of the park.
The quiet valley has a 3-mile trail loop that makes a scenic and easy hike. The north end of the loop runs through sunny and still-grassy Bort Meadow, while the south end is densely wooded and even has a few scattered redwoods. Contrary to what the trailhead name suggests, there aren't any actual big trees here, but the shady grove contrasts strikingly with the meadow and makes for an interesting hike.
This hike also includes the MacDonald Trail, which is a little less interesting than Grass Valley and mainly seems to be used by locals out walking their dogs. The MacDonald Trail rounds out the hike by adding some climbing and scenic views, but can easily be skipped if you'd prefer a shorter hike.
Start at the MacDonald Staging Area. The trail starts in a wooded canyon and climbs out of it. After a mile the trail crosses over a natural dam, an odd little ridge that looks just like a manmade dam across the canyon but isn't.
The woods open up and the trail descends through scattered oak trees and grassland. There are a lot of people walking their dogs in this area, coming from the Parkside Road entrance.
There's a long, gentle descent to the Big Trees and Bort Meadow parking lot. Pass through the lot to pick up the paved road on the other side.
Take the paved road downhill through the trees. At the bottom, turn left and pass through the gate into the bright, open meadow. There are some gentle rises and falls as the trail winds through the meadow.
Leaving the meadow, the trail enters a eucalyptus grove and then descends into a strikingly shady wooded glen. Turn right and cross the stone bridge, then immediately turn right again onto the Brandon Trail.
A few redwoods appear along the trail, then some clusters of redwoods. The redwoods are small, maybe 12 inches in diameter, and it's not clear if this is a naturally-occuring stand, but it's still surprising to see them here.
The rest of the Brandon Trail isn't really that interesting; the trail runs along the edge of the woods so it's not really wooded, and and any views are blocked by a wall of brush, so it's not really open.
Return to the Big Trees/Bort Meadow lot, then return on the MacDonald Trail.
---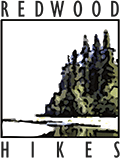 © 2018, 2023 David Baselt