★
The Hayward Greenbelt
---
Hayward Area Recreation Department
This quiet, shady loop starts in downtown Hayward and winds through two canyons near the Cal State campus. The trail runs through a narrow greenbelt interlaced between residential neighborhoods, but it's remarkably well-isolated from the city, with only a very few places where you can see or hear any of the surrounding developments. It's like a bit of wilderness in the suburbs.
The main drawback of the loop is that there's only one possible route and no great views or other big payoff, so the hike can feel a bit constrained. On the other hand, the route is almost entirely wooded; in fact, it's the only fully- or even mostly-wooded hike in the Hayward area, making it a good option on hot summer days. Overall, this is a surprisingly enjoyable suburban park.
The trail starts at the Hayward Plunge, a popular indoor swimming pool built in the 1930s and part of Memorial Park. Memorial Park has a parking lot "for patrons only", but as a hiker you are, in fact, using the park, so I assume it's OK to park there.
Follow the wide paved trail past the entrance to the Plunge. The Wally Wickander Trail, also known as the Hayward Plunge Greenway Trail, immediately enters the wooded canyon. At first the canyon is narrow and the trail is a wide, dusty, overused dirt road. Depending on recent maintenance the trail may turn into a singletrack or it may remain a dirt road, but after the trail climbs over an old dam, the canyon becomes more attractive. The trail climbs insistently through nice if not spectacular bay laurel woods.
The trail emerges from the woods at Campus Drive, awkwardly squeezing by a church before crossing the road. After Campus Drive, the canyon becomes wider and more isolated. When the road forks, stay to the right. The trail gradually becomes more scenic. There's a little cluster of small, presumably non-native redwoods at one point.
Near the highest point of the loop, the trail breaks out of the woods, offering some views over the canyon. When the trail ends, turn right onto Durham Way and walk along the road a few yards to Oakes Way, where the trail resumes.
The Ward Creek Road Trail descends steeply into a narrow, lush, and shady canyon. As the trail descends the canyon gets progressively deeper, lusher, and more scenic. A few ferns grow alongside the trail and there are some huge eucalyptus trees. At Campus Drive, turn right and pick up the Wally Wickander Trail to return to the Plunge.
---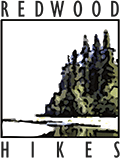 © 2014, 2017, 2022 David Baselt