★
Joaquin Miller Park
---
A second-growth redwood park in Oakland
With its extensive second-growth redwood groves, Joaquin Miller Park is one of the best examples of the Oakland Hills' surprisingly lush landscapes. The park isn't all redwoods, though; there's a nice variety of scenery. The park is quite popular, especially the relatively level Sequoia Bayview and Sunset Trails. And although it looks tiny compared to the nearby regional parks, it feels pretty expansive when you're hiking it.
The recommended hike combines the two most scenic parts of the park: a lush redwood-filled gorge on the Palos Colorados Trail and a hilltop redwood grove on the Big Trees Trail.
Vehicle break-ins are common in this area, especially along Joaquin Miller Road and Skyline Boulevard, so I like to park in the residential neighborhood on Joaquin Miller Court.
Start on Joaquin Miller Court, just south of the attractive Montclair shopping district. The Palos Colorados Trail is one of the park's best; it climbs through a remarkably lush, steep-sided gorge filled with small redwoods. Masses of invasive ivy cover the ground and some of the trees and also hang down from the trees. As you climb, the gorge gets deeper, lusher, and more scenic.
At the first intersection, turn left and climb the steep trail past the foundations of an old house to reach the Sunset Trail, which is a dirt road. Go left to reach the Cinderella Trail.
The Cinderella Trail is a steep, well-worn trail that's mainly used by speeding mountain bikers. It climbs to a hilltop plateau where there's a nice redwood grove. There's no ivy here, making it a more ordinary-looking upland grove. The redwoods grow in a wide band that roughly follows Skyline Boulevard for almost a mile.
The best of the hilltop redwoods is the flat area at the highest point of the Big Trees Trail. Although the redwoods are small, the pure redwood grove has a little of the cathedral-like quality of an old-growth alluvial flat. It's quite attractive and a unique sight for the East Bay. Unfortunately, the Big Trees Trail only runs through the flat for a few yards; it then starts to descend, leaving the unusual grove behind.
Turn left on the Sequoia-Bayview Trail. This wide, level trail is the most popular in the park. There are patches of redwoods in the canyons, but the trail is mostly non-redwood forest.
Turn onto the Sunset Trail, which descends into the redwoods. The dirt road isn't that interesting, so take the Sinawik Trail. Although it runs alongside the dirt road and just a few yards away, its lush canyon environment is a lot more interesting.
Return on the Palos Colorados Trail.
Related websites

---
Here's another map of the park and surrounding area from the Friends of Sausal Creek.
---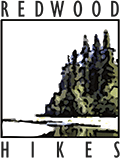 © 2014, 2018 David Baselt