★
Kennedy Grove Regional Recreation Area
---
Length 3.4 mi · Climbing 870 ft
Kennedy Grove is a small park at the base of San Pablo Dam that features the prettiest of all East Bay park picnic areas, a large, attractive lawn surrounded by towering eucalyptus. On nice summer weekends the lawn is popular enough that the main parking lot often fills up.
The lawn is spoiled a little by constant traffic noise from nearby San Pablo Dam Road.
Kennedy Grove also has some short trails so that you can take a walk after a picnic. The trails are actually pretty nice; they're well-maintained with lots of variety. This hike includes most of the park's trails.
There's a $5 parking fee on weekends and holidays from April through October, but you can park in the overflow lot just outside the entrance kiosk for free.
The trail starts from the main parking lot as a dirt road that climbs past the lawn and through the eucalyptus grove. After passing a maintenance area, the trail leaves the grove and breaks out into sunny scrub.
Near the park boundary, the singletrack Lower Seafoam Trail branches off to the left and winds steeply up a scrub-covered hillside, providing some nice views of San Pablo Reservoir. The trail is so steep that it gets too slick to climb if the ground is even a little damp.
Turn onto the Upper Seafoam Trail, which continues to climb through sunny scrub. At the top of the hill, the trail leaves the scrub behind and enters the shade of an oak grove.
The trail descends a hillside covered with small trees. When you reach an intersection with a dirt road, turn right to hike the Black Oak Loop or left to return directly to the parking area.
After all the climbing, the Black Oak Loop is nice and easy. It's more popular than the Seafoam Trails, maybe because it's a wide dirt road and isn't as steep. The road runs through a shallow valley of oak-dotted grasslands before looping over an oak-capped knoll. It then returns to the main parking lot.
---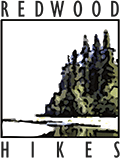 © 2018, 2023 David Baselt