★
King's Canyon Loop Trail
---
Length 6.7 miles • Climbing 1110 feet
This loop trail is a wide dirt road that mostly runs through the pleasant woods around the Upper San Leandro Reservoir just south of Moraga. Surprisingly, the reservoir isn't a very prominent part of the hike; it can only be seen from a few spots, although a few of those are admittedly pretty impressive. What's more, since the trail follows the lakeshore you'd think it would be level, but in fact there's quite a lot of up-and-down as the trail winds over small ridges and gullies.
A $10.00 annual permit is required to use this trail. The permit can be purchased online and printed out on your printer.
The first mile or so of this trail has the best scenery, with some attractive woods and open fields with nice views of the reservoir. It's one of the most popular EBMUD trails; on a nice spring weekend you might see 1–2 groups per minute, mostly locals out with their dogs or families for a short walk.
The number of people gradually drops off as the trail starts to climb slightly and enters the woods. The woods block any view of the reservoir, so this section isn't as nice. Two sets of power lines parallel the trail for a while as the trail climbs over a series of small hills.
At the southernmost part of the loop, the woods give way to grasslands and the trail reaches a point of land that has the best views of the big reservoir, set among lush oak-carpeted hills.
The trail then enters a side canyon. Sometimes the grasslands are heavily grazed in this area and the wide, dusty dirt road is liberally strewn with cow manure, which can make this stretch somewhat unpleasant.
Reaching the end of one arm of the reservoir, the trail turns left and steeply climbs a prominent hill, first through open grasslands and then though light woods. This trail used to be part of the Kings's Canyon Loop Trail, but it's been renamed the Rocky Ridge Trail. The surrounding landscape is much more pleasant in this area, with some nice views of the surrounding hills.
The trail runs along the pleasantly wooded, level hilltop for a little while, then descends steeply to a low ridge with views of the reservoir and the wide, shallow valley where the hike began.
For variety, at the next intersection turn right onto the Rimer Creek Trail, which is little-used but very pleasant. Take the short, nearly invisible connecting trail through the gate, and after a few yards look for a road and turn right onto it. The road descends and runs along the edge of a suburban development for a bit before cutting through lush woods to rejoin the main trail.
(This isn't part of the hike, but at the end of the loop you can turn left instead of right onto the Riche Loop Trail. The trail descends to the reservoir, or a marshy area of the water level is low, before looping back to the parking lot. The loop isn't especially scenic, so you won't miss much if you skip it.)
---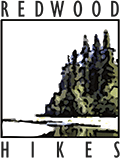 © 2018, 2023 David Baselt