★
The Lafayette Ridge Trail
---
Length 6.6 mi · Climbing 1670 ft
The Lafayette Ridge Trail starts in suburban Pleasant Hill and winds up a hillside to an open ridge with fine views of Lafayette and Walnut Creek. There isn't one big payoff viewpoint that everyone hikes to, but it's still a popular trail since it conveniently starts right on a major street. The most popular part is the little network of trails at the bottom of the hill, but the most scenic part is the ridge at the top.
The trail is best suited to shorter out-and-back hikes, since the northern half of the trail has a series of steep knolls that wouldn't be very pleasant to hike over twice, and there isn't any other way to get back to the parking lot without a lot of walking on paved roads.
Start at the Lafayette Ridge entrance. The 60-car lot sometimes fills up, but it usually doesn't take long for someone to leave.
Follow the signs for the Lafayette Ridge Trail up the hill. There's a lot of traffic noise at first from busy Pleasant Hill Road. The dirt road splits into three; all will take you to the same place, but the fainter one that's marked as the Lafayette Ridge Trail is the most interesting, turning into a singletrack trail that switchbacks through a little oak grove before rejoining the main dirt road.
The trail continues to climb with increasingly scenic views, eventually leveling off around the intersection with the Petar Jakovina Trail.
The trail emerges onto a ridgetop with great views over the suburbs on both sides. The next half-mile is easy and fairly level. Lafayette Reservoir and Mount Diablo are clearly visible. The ridge is surprisingly quiet; the traffic noise has faded away. It's really a very nice area.
After about the halfway point the trail becomes somewhat unpleasant as it goes over a series of eleven short but annoyingly steep knolls, ending with an especially steep climb to the Briones Crest Trail. The knolls add about 700 feet of climbing to the out-and-back trip. I usually skip this part and just turn around at the first steep downhill for a 3.6-mile hike.
---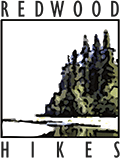 © 2018 David Baselt