★★★
Las Trampas Regional Wilderness
---
Danville
Background

---
Danville's Las Trampas Regional Wilderness is a park of steep climbs: for every mile hiked you'll end up climbing about twice as much as you would in most other Bay Area parks. To make things even more difficult, although the dirt roads are fine, Las Trampas's singletrack trails all seem to be unofficial trails that were adopted; they're narrow, rough, overgrown, and generally not as pleasant as purpose-built singletrack. It's a scenic park, but its ruggedness makes it difficult to find really enjoyable hikes.
The park has two ridges, one on each side of Bollinger Canyon Road. To the east, Las Trampas Ridge is generally more scenic, with sweeping views over the San Ramon Valley. To the west, Rocky Ridge is more isolated and more rugged. The east side of each ridge is dominated by scenic oak groves and meadows, while the west side is dominated by hot, dry scrub.
Hikes

---
*** Eagle Peak (7.8 miles, 2000 ft)
Eagle Peak is just a little rock perched on a minor ridge, but the climb to Eagle Peak is one of the finest hikes in the East Bay, mainly because the trail climbs through open, oak-dotted meadows with superb views of the San Ramon Valley.
*** Las Trampas Ridge (9.9 miles, 2460 ft)
From the Elworthy Staging Area, the exceptinally scenic but little-used Las Trampas Ridge Trail climbs through ridgetop cow pastures with sweeping views of the San Ramon Valley.
** Rocky Ridge (4.8 miles, 1120 ft)
The high, narrow Rocky Ridge with its scenic views of Bollinger Canyon and the wooded Oakland Hills is Las Trampas' marquee destination.
---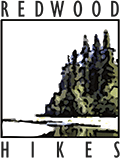 © 2018 David Baselt