★
Leona Canyon Regional Open Space Preserve
---
Oakland
Leona Canyon is a small park just south of Merritt College in Oakland. The deep canyon is lushly wooded with oaks and is remarkably isolated from the surrounding suburbs. It's mainly used by locals out for a pleasant short walk.
The park entrance is a little hard to find; the parking lot is inside the Ridgemont condo complex. There's no indication that you should pull into the condo complex to reach the park, and a "Private Property" sign seems to suggest that you can't.
The trail is a wide dirt road that descends slightly through an open, sunny area before entering the woods. The woods are remarkably lush and attractive for this area, with good-sized oaks that arch over the trail, and a dense understory underneath them. In the lushest areas the scent of bay laurel trees wafts over the trail. No sign of the surrounding suburbs can be seen. It's quite an enjoyable walk.
The trail passes two side trails that climb out of the canyon, then the trail begins to climb more steeply. As it does, the woods thin out and then give way to less-attractive brush. The trail ends at Merritt College.
Leona Heights

---
Just a third of a mile from the end of the Leona Canyon Trail, on the other side of Merritt College, the City of Oakland's Leona Heights Park is similar to Leona Canyon but not as well-maintained. The singletrack York Trail runs along a creek at the bottom of a ravine filled with small second-growth redwoods; unfortunately the trail is unmaintained and heavily eroded, making it difficult and somewhat hazardous to walk. It still seems to be fairly popular, though. There's also a dirt road that's in good condition.
Leona Heights' main claim to fame is that it has the only old-growth redwood left in the East Bay. Unfortunately, the redwood can't be seen from any of the trails; the 93-foot-tall tree grows from a crack in a boulder on a steep hillside and isn't easily reached.
---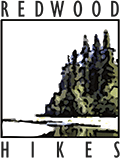 © 2018, 2023 David Baselt