Tucked away in an isolated valley just a mile outside Milpitas, Levin County Park features a developed area with a little lake, a picnic lawn, and a golf course. The park has paragliding and hang gliding facilities, and on a nice day a few paragliders may be circling overhead.
Most importantly for hikers, though, the park also includes the high, mostly treeless ridge that towers over the town, where some hiking trails provide a rather nice eight-mile loop to Monument Peak.
The park used to be quiet and little-visited, but in 2020 and 2021 it become so popular on weekends that it was difficult to get in. It seems to be less busy now that they're changing a $6 admission fee again.
Hikes

---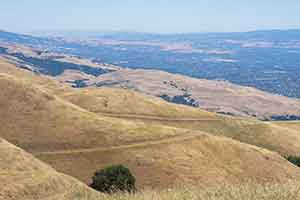 ★★★
Monument Peak
Length 9.1 mi · Climbing 2210 ft
Has the same great views as nearby Mission Peak, but without the crowds. Even though it overlooks the vast urbanized plain of the South Bay, it has a surprisingly quiet, bucolic feel.