★
Maguire Peaks
---
Sunol Regional Wilderness
Length 5.4 mi · Climbing 1200 ft
This loop off Welch Creek Road features some unique views of the San Antonio Reservoir and the rolling oak-dotted hills that surround it. The trail isn't quite as scenic as the trails in the main body of the park. Until recently it was little-visited, but now it's about as popular as the other trails in the park.
The hike would be better if the Lower Maguire Peaks Trail was still open, but unfortunately it's been closed since 2015 due to storm damage.
The trail starts on Welch Creek Road, a steep, narrow road that climbs through a canyon on the north side of the park. Before driving up here, you're supposed to drive down to the main park entrance and pay $5 for a Welch Creek Road parking permit.
The trailhead is clearly visible from the road. Park in one of the narrow shoulder pullouts just past the trailhead.
The trail, which is a dirt road throughout the hike, climbs steeply away from Welch Creek Road. It isn't especially scenic at first, in part because there are some non-native trees, including a few redwoods, planted alongside the road, and the effect is somewhat odd.
The trail passes the Upper Maguire Peaks Trail. Although it's designated as official, and it looks like it would be a good way to get to Welch Creek Road, this trail is cut into a steep hillside and is so narrow and eroded that it shouldn't be used.
The scenery improves as the trail reaches a ridge and descends into an oak grove. The trail then climbs through an attractive blue oak grove and loops around to the north side of the Maguire Peaks. There are some nice views over the relatively flat lands to the north.
The best views are at the high point of the hike, near a bench where the trail crests a ridge. Mount Diablo is clearly visible, as is the San Antonio Reservoir, which looks somewhat out of place in the dry-looking landscape. A faint unofficial track leads up to the peaks.
Stay away from the small rock piles, since rattlesnakes nest in the crevasses.
After the viewpoint, the trail descends back into the valley, with some nice views and a lot of up-and-down.
Links

---
---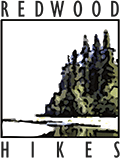 © 2017, 2022 David Baselt