★★★
Mission Peak Regional Preserve
---
Seen from the suburbs of Fremont, Mission Peak with its distinctive pyramid-shaped cap looks treeless and barren — not an especially inviting place to go hiking. But visit the park on a nice day and it becomes clear why it's one of the most popular places to go hiking in the Bay Area. The sunny, invigorating hike to the peak is relatively short, yet it offers a great workout and superb views over the South Bay. Exploring off the main trail reveals surprising little pockets of woodland that offer refreshing breaks from the roasting sunshine, and even little creeks that miraculously flow even in summer.
Mission Peak does, however, get hot. Even though Fremont is one of the cooler cities in the area, on summer afternoons the west-facing slope of Mission Peak catches the sun and turns into a furnace, becoming much hotter than the city itself. I find it too hot to hike if the forecast high is above 85 degrees.
Hikes

---
* * * Horse Heaven from Stanford Ave (7.5 miles, 2680 ft)
This is the scenic route. It's much more difficult than the normal Hidden Valley route but also much more rewarding.
* * Mission Peak and Hidden Valley from Stanford Ave (6.1 miles, 2115 ft)
This is the popular route. In fact it's one of the most popular trails in the entire Bay Area, and with its superb views, lots of sunshine, and lots of climbing, it's easy to see why.
* The Peak Trail from Ohlone College (7.1 miles, 2170 ft)
This is the park's recommended route. They're trying to convince everyone to use the Ohlone College trailhead since the college has plenty of parking, but unfortunately the route isn't as scenic and you have to pay $4.
Backpack camps

---
* * Eagle Spring Backpack Camp ($5/night + $8, open all year)
After watching the sun set from Mission Peak, you can wander down to this little camp to gather round the warmth of your cookstove while the lights of the Tri-Valley twinkle in the distance, all for the low price of only 13 bucks.
---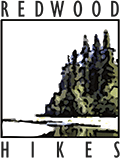 © 2012, 2017, 2019 David Baselt
---