★★★
John Muir National Historic Site
Mount Wanda
---
Length 2.4 mi · Climbing 580 ft
Background

---
Mount Wanda is a small but very attractive park just across Highway 4 from the John Muir House. John Muir tooks his kids for walks here. Its oak woodlands are noticeably more attractive than nearby parks, mainly because they consist of open stands of blue oak, but also because, as a National Park Service property, it's not grazed like most of the regional parks. The park also features a scenic hilltop meadow, giving it a nice variety of scenery.
The oak woodlands aren't nearly as scenic in winter, when the oaks drop their leaves, but the hilltop meadow is still very enjoyable.
Here's the trailhead location in Google Maps and Google Street View.
The John Muir Nature Trail climbs Mount Wanda and then loops through an attractive oak grove. Although it's not crowded, it's a fairly popular loop.
Start at the parking lot just off Highway 4. Ignore the trail that runs uphill to the left; the trail begins as a dirt road on the right (north) side of the lot.
The trail climbs insistently through deep shade in a tunnel of dense oak foliage. For such a short loop there's a surprising amount of climbing. As the trail bends around to the right, the woodland becomes less dense, the foliage opens up, and there's a brief view of Alhambra Valley below.
Take the trail that starts at a picnic bench to your right. The mostly level, well-maintained trail winds though a very scenic blue oak grove. There are some sounds of traffic from nearby Highway 4, but it's not overwhelming. There are a few picnic benches along the way.
The trail ascends to a dirt road, where you break out of the woods and into a sunny hilltop meadow with fine views of the attractive oak-covered hills. Turn left onto the road, which climbs until it passes by the low rise of Mount Wanda. There are some limited views of the Carquinez Strait. The road then descends back to the parking lot, with a few views of Mount Diablo.
Related websites

---
---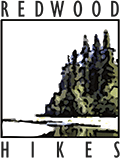 © 2012, 2018 David Baselt