★★★
Point Pinole Regional Shoreline
---
Length 3.4 mi · Climbing 140 ft
This lovely waterside park with its eucalyptus-shaded allées, rolling grasslands, and pretty bay views is the most enjoyable of all the parks that dot the shores of San Francisco Bay. It's the only bayside park that has miles of shaded trails and a wide variety of scenery./p>
The sound of gunfire from the Richmond Rod & Gun Club can be heard in the western half of the park, especially if the wind is blowing from the south. The noise didn't used to be noticable, but the club has been a lot busier since Anthony Chabot Regional Park's marksmanship range closed in 2016.
The park has two entrances; both charge a $3 parking fee on weekends from April through October. Of the two, the new Atlas Road entrance is by far the more attractive and convenient, but the older Giant Highway entrance remains popular.
Point Pinole had long been the site of a gunpowder and dynamite plant; the eucalyptus trees were planted to contain explosions, After the plant closed in 1960, NASA proposed locating its Mission Control complex here. A few years later Bethlehem Steel began building a major steel mill on the site, but abandoned its plans due to increasing competetion from imported steel. The tracks for the Disneyland railroad came from Point Pinole, where they were at one time used to haul explosives.
The park has miles of flat, easy trails. The loop described here combines the park's most scenic and enjoyable trails, the bayside trails around the edge of the point.
Start at the parking lot at the end of Atlas Road. It's a little difficult to get oriented here; from the signboard next to the restroom building, go left on the Cook's Point Trail, which is the more open of the two trails that pass by the parking lot.
Continue straight, cross the paved Pinole Point Trail, and descend to the Bay View Trail. This trail has the best bay views of the hike, offering great views of the Marin mountains across the bay.
The views are interrupted for a while as the trail dives into an attractive eucalyptus grove for a quarter-mile or so, but the road eventually re-emerges onto the shoreline.
Nearing the point, take the short, unmarked singletrack trail to stay near the shore and descend to the base of the fishing pier.
Turn right onto the paved Pinole Point Trail, which passes through some shady picnic areas. This is the park's most popular trail, and a shuttle runs along it taking people to and from the pier. Although it's quite an enjoyable trail, take the quieter Owl Alley Trail, which runs through an open meadow before turning into a stately eucalyptus-lined allee.
Turn left onto the Marsh Trail. The views here on the north side of the point aren't as scenic as the south side, but I still like the variety of different views.
Turn onto the Cook's Point Trail, which runs through a dense, dark eucalyptus grove, then arrives at the parking lot.
Related websites

---
---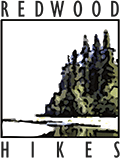 © 2018, 2023 David Baselt