★
The Ridgeline and Thermalito Trails
Southern unit of Pleasanton Ridge
---
Length 7.8 mi · Climbing 1680 ft
The southern portion of Pleasanton Ridge is the most popular of the park's three disconnected sections. It has lots of trails with nice ridgetop views., but in summer it gets somewhat dry, dusty, and worn-out from grazing and heavy visitor use.
This hike loops through most of the southern section. There are some nice views, mainly of the Sunol Valley to the south, as well as quite a bit of climbing.
Park in the Foothill Staging Area lot. There's lots of space in the lot and parking usually isn't a problem.
From the parking lot, head up the Oak Tree Trail, the most-used trail in the park; you'll see about 4 groups per minute at peak times. Most people take the wide dirt road all the way up; just to be different, take the Woodland Trail instead. The trail switchbacks uphill through a little strip of woodlands, but soon breaks out into an open meadow.
At the top, the trail comes to a 4-way intersection; continue straight ahead onto the Ridgeline Trail. The number of hikers on the trail drops off quickly after this point.
The trail continues to climb along the ridge for a surprisingly long time, passing through an olive orchard. As you reach the top of each hill, another, taller hill comes into view. The high point of the hike finally arrives at a gate near the unit's northern boundary.
The landscape immediately becomes noticably more lush and attractive as the trail starts to descend. Just after entering Augustin Bernal Park, turn left onto the Thermalito Trail. There's a slight rise, then the trail descends steeply back into the dry-looking landscapes of Pleasanton Ridge. There's a bit of up-and-down before the trail settles into an easy descent.
The landscape changes from grassland to scrub as the ridge begins to flatten out. Continue all the way down to the Ridgeline Trail, then turn left. There's a bit of a climb back up to the four-way intersection, then take the wide Oak Tree Trail back to the parking lot.
---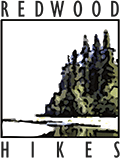 © 2014, 2018, 2023 David Baselt