★★
Rocky Ridge
---
Length 4.8 mi · Climbing 1120 ft
The high, narrow Rocky Ridge with its scenic views of Bollinger Canyon and the wooded Oakland Hills is Las Trampas' marquee destination. It's the park's most popular loop, other perhaps than the short Bollinger Creek Loop.
All the scenery on this hike is on the ridgetop; the rest of the loop is pretty mundane in comparison.
From the parking lot at the end of Bollinger Canyon Road, climb the steep Rocky Ridge View Trail. This is a paved service road for the antennas on the top of the ridge. Near the top of the hill, the road leaves the park and enters EBMUD property; a permit would be required to continue on the road. Instead, take the bumpy singletrack trail to the left.
Up to this point there haven't been any really good views, but as you come around a bend in the trail some great views of Bollinger Canyon open up.
The trail, which is narrow and looks more like an unofficial track, runs alongside a dirt road that's on EBMUD property, separated by a fence. It's actually easier to walk on the dirt road, but you'd have to climb over a gate to get back onto the Rocky Ridge View Trail.
The singletrack trail eventually ends, giving way to a dirt road that runs slightly to one side of the ridge.
After the Devils Hole Trail, the ridge gets much narrower and the views improve dramatically. This is the most scenic part of the trail.
The great scenery ends when you turn onto the Elderberry Trail. The trail descends through patchy woods; there are a few views but nothing really noteworthy.
---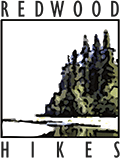 © 2018 David Baselt