★
The Vista Peak Loop Trail
---
Length 4.6 mi · Climbing 760 ft
This loop around the low rolling hills of Garin Regional Park features a trip through a wooded canyon. When the hills are green it's quite enjoyable and scenic, although not nearly as dramatic as the neighboring and much more popular High Ridge Loop.
Vista Peak itself isn't part of the loop. The peak has some decent views to the north, with downtown Oakland in the distance, but just hiking the Vista Peak Loop by itself is a bit monotonous; detouring into the woods instead makes the hike more interesting.
In winter the trails are churned up by cows and get unpleasantly muddy. The first half of the loop in particular seems to be the park's muddiest trail.
Start from the Garin parking lot, where there's a $5 fee to park (or, avoid the fee by starting from the Zeile Creek Drive trailhead at the halfway point of the loop). After the entrance kiosk, drive halfway around the traffic circle, take the second right, and park near the end of the lot. The trail begins at the far end of the lot.
The trail begins as a paved road; passing through a gate, it becomes a dirt road and starts climbing a grassy hill. Turning right, the trail briefly passes through a stand of trees.
Turn right onto the Zeile Creek Trail. The quiet trail continues along the open, grassy hill for a while, then abruptly dives into a wooded canyon. At first the woods aren't especially attractive, with small trees and lots of scraggly undergrowth, but as the canyon gets deeper the trees gradually get bigger and the woods more scenic.
At the first intersection in the woods, stay left to take the Garin Woods Trail. This trail is much wider and better-used than the last half-mile was. At the next intersection, skip the faint upper trail and continue straight.
The trail breaks out of the woods and climbs to an intersection with a dirt road near a large stable. The short stretch of trail around the stable isn't grazed and sometimes gets overgrown.
Turn left onto the road, which climbs gently for a while before beginning a long, easy descent through open cow pasture with nice views of the rolling hills and the Hayward flatlands below. This is the best part of the loop and the real payoff for the hike.
At the next intersection, turn right to descend back to the parking lot.
---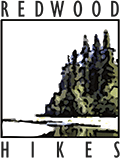 © 2018, 2023 David Baselt