★
Bard Grove
and Wouk Grove
---
Length 2.3 mi · Climbing 380 ft
A short, little-used trail climbs the hillside across the van Duzen River from Grizzly Creek Campground. The mixed-species forest in this area doesn't seem to be logged, but it's not especially scenic, especially compared with the nearby Cheatham Grove. The best part of the loop is a small old-growth redwood flat at the east end.
The loop is a little hard to find because there are no signs at the trailhead. In summer, find the footbridge across the van Duzen River and cross it. On the other side of the river, take the faint unmarked path that leads into the woods.
Follow the trail up the hillside and stay to the right at the first intersection. The trail is somewhat narrow and overgrown, with occasional sprigs of poison oak. The redwoods are small and widely scattered, with lots of other kinds of trees and an dense understory growing among them. A few medium-sized redwoods stand at the top of the trail.
As the trail descends, it passes by a few large redwoods.
A faint trail branches off to the right; it looks like it might be closed but it isn't. Overgrown with ferns and marked only with a small sign that says "Loop Trail", it descends to Bard Grove, a small alluvial flat with the best redwoods of the hike. The grove has a few good-sized redwoods. Trucks and motorcycles thunder by on nearby Highway 36. There's a little loop through the grove, but part of it has nearly disappeared.
Wouk Grove

---
Just after crossing the river on the way back, take the faint, unmarked path to the left to visit Wouk Grove. The trail isn't very pleasant since it's not in great condition and is only a few yards from Highway 36. But after climbing an embankment, it descends into an alluvual-flat grove of pretty good-sized redwoods, much larger than the ones in Bard Grove. The trail reaches a cluster of large redwoods standing around a circle of little benches. After this the trail gets very faint and much less scenic, so it's not worthwhile to go any further, but the trail climbs up to a pullout by the side of Highway 36 and then loops back.
---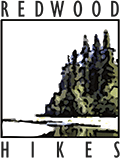 © 2023 David Baselt