★★★★
Cheatham Grove
---
Length 0.7 mi · Climbing 10 ft
Cheatham Grove is a exceptionally fine alluvial-flat grove located in a bend of the Van Duzen river. The cathedral-like grove is very open and is a truly impressive sight, with a dense collection of exceptionally straight redwoods rising from the perfectly flat ground. The groundcover is unusually lush, with both a thick carpet of redwood sorrel and a dense layer of ferns. The grove has the ordered look of a carefully-maintained garden.
Not surprisingly, the grove resembles nearby Humboldt Redwoods. Although Cheatham Grove doesn't have the real monster trees of Humboldt Redwoods, overall it's a bit more attractive, with its perfectly-formed trees and slightly more lush, open appearance.
The grove is next to Highway 36, but because of the light traffic the noise isn't excessive. Although you have to pay a fee to park in the main portion of Grizzly Creek or Van Duzen parks, Cheatham Grove has its own little parking lot where you can park for free.
The most memorable parts of the speeder bike chase in the Star Wars movie Return of the Jedi were filmed in this grove in 1982. The grove wasn't added to the state park (and presumably wasn't named Cheatham Grove) until 1983. Only the forward-looking steadicam shots were taken here; see the link below for more information. Sideways shots showing the riders in profile were taken from the back of a truck driving down the Avenue of the Giants, and scenes in which actors walk around in the redwoods were shot on much less impressive privately-owned land just north of Crescent City. The latter scenes couldn't be shot in a park, since they required removing the groundcover to allow camera and lighting crews to walk around freely.
The scenery in the grove is pretty homogenous, so it doesn't really matter which way you go around the loop. Near the beginning of the loop you may hear an occasional car roaring by on Highway 36, but the grove gets quieter as you get further in. The beginning of the loop also tends to be breezy.
A short spur leads to a bench in a clearing with a huge maple tree in the middle, a strikingly out-of-place sight in this nearly pure stand of redwoods.
Related websites

---
StarWarsLocations.com has the best information about where the redwood scenes in Return of the Jedi were shot.
---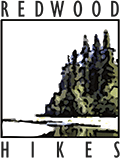 © 2008, 2009, 2014, 2017, 2022 David Baselt