Headwaters Forest Reserve
---
The newest redwood park
Acquired in 1999, the Headwaters Forest Reserve is the newest and probably the last-ever large tract of old-growth redwoods to be acquired for preservation. Purchased by three federal and state agencies in 1999 after a long and sometimes violent conflict between environmentalists and logging interests, the reserve has about five square miles of old growth, making it the sixth-largest redwood park or reserve by old-growth area.
As the newest redwood acquisition, however, the Reserve exemplifies the gradually increasing emphasis of preservation over recreation in redwood parks. In fact, Headwaters doesn't allow the public any access at all to its main old-growth groves. Any trails through these areas would, by today's environmental standards, result in unacceptable damage to the forest ecosystem.
Therefore visitors are restricted to two trails that explore the edges of the property. In the north, a 5.5-mile trail through logged redwoods leads to a 0.4-mile loop through a small patch of remnant old growth. In the south, a 2.5-mile trail that passes through another small old-growth fragment is only accessible by guided tour. No additional trails are planned, and some have even argued that no visitors should be allowed into the Headwaters Reserve at all.
Old-growth hikes

---
** Salmon Pass Trail (2.8 miles)
The Salmon Pass Trail, which can only be accessed by guided tour, climbs to a remnant section of old growth on a hillside above the town of Fortuna.
Second-growth hikes

---
* Elk River Trail (10.7 miles)
This pleasant if unexciting trail starts as an old logging road that follows the Elk River. After the first 3 miles, it becomes a singletrack trail that ascends through second-growth redwoods to reach a small old-growth grove.
More information

---
---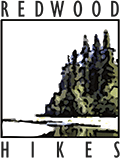 © 2010, 2017 David Baselt