★★
The Salmon Pass Trail
---
Length 2.8 mi · Climbing 530 ft
The Salmon Pass Trail is Headwaters' best hike, but the only way to hike it is to take a guided tour. The tours are free and are generally conducted by Bureau of Land Management staff or volunteer docents between May 15th and November 15th of each year. Check BLM's Headwaters page to schedule a tour. These tours aren't especially busy; one tour that I showed up for had one other person, while on another two tour guides accompanied me but no one else showed up.
The tours meet by the Headwaters information sign next to the entrance to Fortuna's Newburg Park, generally at 1:00 on weekdays. The tour takes about 3 hours, including a 15-minute drive (each way) to the trailhead on a gravel logging road.
The trail climbs to a remnant section of old-growth on a hillside above the town of Fortuna. It's a small section that's isolated from the main body of Headwaters' old growth, and it doesn't have any really massive lowland redwoods, but it's still a fairly extensive and interesting grove with some nice woodland scenery.
The trail, which is wide and well-maintained throughout, begins in lush mixed woodland with a few huge redwood stumps scattered here and there. After about 1.6 miles, the trail divides, beginning a loop through old-growth redwoods. At first the trail runs along the bottom of a ravine lined with mid-sized old-growth redwoods. It then switchbacks up a hillside; as it, does the woods become lighter in color and more open, and the redwoods become more impressive. The trail reaches a ridgetop that marks the edge of the old growth. After running along the ridge top for a while, the trail begins to descend off the ridge, entering an exceptionally open and light-colored redwood grove, the scenic highlight of the trip.
The trail leaves the old growth as it descends back to the beginning of the loop.
---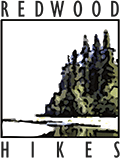 © 2017 David Baselt