★★★★
Big Hendy
Loop hike including the Discovery Loop and Upper Loop
---
Length 1.4 mi · Climbing 20 ft
Big Hendy looks a lot like Humboldt Redwoods, but it has its own unique, welcoming charm. The little grove, sitting in the sunny Anderson Valley, seems more approchable than the bigger, more important groves to the north.
Start at the picnic area and take the All Access Trail into the woods. You'll soon find yourself among impressive old-growth redwoods. The official trail curves to the right and crosses a footbridge across a creekbed that's usually dry; there's also a wide unnoficial trail worn into the groundcover that bypasses the bridge and shortcuts directly to the Discovery Trail.
At the outset the trail passes some remarkable redwoods. Here along the southwest edge of the grove, the foliage is dense and the forest looks very much like a southern grove, except the trees are bigger. On still days a hum of traffic noise drifts over from Highway 128, but the grove (especially the part nearest the Day Use Area) tends to be very breezy and the wind in the trees usually covers up the traffic noise.
At the next intersection, continue straight, following the sign to the Upper Loop. Somewhat unusually, the groundcover is in places dominated by trillium, growing together with ferns and redwood sorrel. The understory is somewhat dense for a lowland grove and contains a lot of bay laurel and small tanoak trees. Bay trees in particular are somewhat uncommon in alluvial-flat redwood groves.
Although it's a little subtle, the scenery definitely improves as you get deeper into the grove; the understory becomes more open, allowing better views of the perfectly straight redwood trunks shooting upward through the foliage, and the groundcover becomes more lush.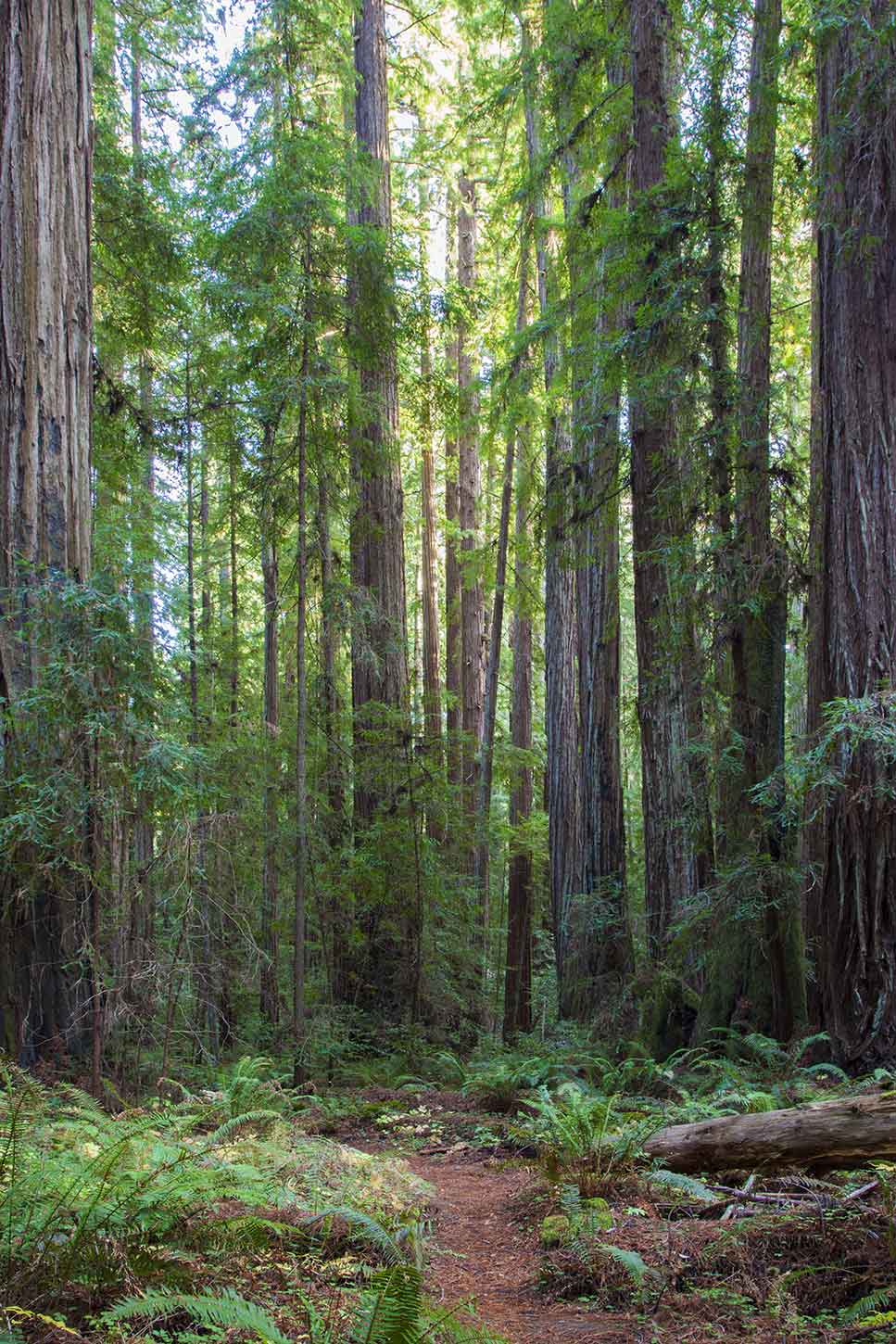 At the next intersection, you can go straight if you'd like to hike the Back Loop or turn left to stay on the Upper Loop. The little-used Back Loop is longer, and the trail is narrower. Its redwoods are noticably smaller; from Highway 128 you can clearly see how the height of the redwoods tapers off at the southern end of the grove.
The return trip on the Upper Loop is the most scenic part of the grove and has a strong resemblance to Humboldt Redwoods, but with a denser understory. The woodland scenery reaches its peak at the second intersection with the Back Loop, where the forest has an open character along with the classic redwood forest groundcover, a plush and unbroken layer of sorrel (at least in wet years; due to the dry weather recently, the sorrel has thinned out a lot). The woods get denser as you start back toward the Day Use Area, with more ferns in the groundcover, but it's still very attractive. At the Discovery Loop the trail jogs to the right and the forest becomes darker and a little less attractive.
Return to the Day Use Area on the All Access Trail.
---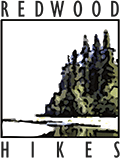 © 2006, 2013, 2016, 2018, 2022 David Baselt